数码科技
【AMD Zen架构工程样品信息 目前步进A0】Zen ES is at the moment in revision A0
source:http://forums.anandtech.com/showthread.php?p=38363321#post38363321
自翻,转载请注明出处。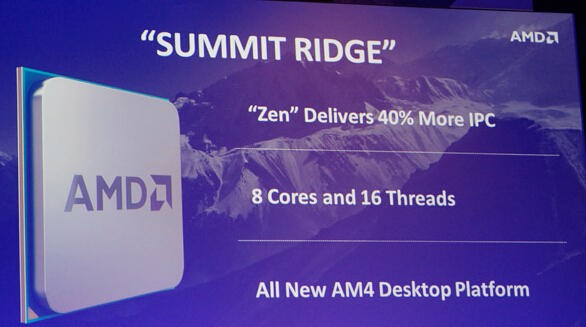 Hi all, I've got some info about Zen ES stage. I thought you would like to see it after the many off-topic Polaris posts.
【大家好,我搞到了一些关于Zen工程样品阶段的信息。我觉得你们在Polaris的帖子里歪了这么多楼之后应该会很高兴看到这些。】
Zen ES is at the moment in revision A0 – it might not be a suprise.
【Zen ES目前处在A0步进阶段 – 这并不出乎意料】
L2/L3 variations: 2/8 MB, 4/16 MB, 8/32 MB, 12/64 MB, 16/64 MB
(512kb L2/core, 8MB/4 cores)
【L2/L3大小:
4C/8T版:2MB L2,8MBL3
8C/16T版:4MB L2 ,16MB L3
16C/32T版:8MB L2,32MB L3
32C/64T版:16MB L2,64MB L3
(每核心512KB L2,每4个核心共享8M L3)】
Core counts are: 4c/8t, 8c/16t, 16c/32t, 32c/64t. As it seems now there won't be a 6c/12t at the launch, there will be only complete core complexes. Later AMD might release a 6/12 version, will see.
【按目前的情况看发布时不会有6核/12线程版本,只会有完整核心的版本。晚些时候AMD可能会发布6核12线程的版本。】
AMD's working on 2 kind of packages: AM4 and SP3. Later there might be a SP4 package of course.
【AMD准备了两种封装:AM4和SP3封装。后面可能看到SP4封装。】
4 variants of ES Zen are available at the moment【ES的Zen当前有四种】:
AM4 8 cores with 95W TDP【AM4插槽,8核,95W TDP】
AM4 4 cores with 65W TDP【AM4插槽,4核,65W TDP】
SP3 24 cores with 150W TDP【SP3插槽,24核,150W TDP】
SP3 32 cores with 180W TDP【SP3插槽,32核,180W TDP】
The most exciting part is core clock. The 8c/95W variant's base clock is 2.8GHz, all core boost is 3.05GHz and maximum boost is 3.2GHz.
The 4c/65W part's clock is the same. (I would expect 3.5GHz base clock for a retail 4c/95W variant.)
【最令人激动的地方是核心频率。8核/95W版本基础频率2.8Ghz,8核心Boost频率为3.05Ghz,最大Boost为3.2Ghz。4核/65W版本频率相同(可能零售版会有4核/95W的默认频率3.5Ghz的版本】
Idle clock is exciting as well. AM4 versions can lower the clock to 550 MHz in idle which is a very nice level from an AMD CPU. Idle wattage is 5W for 8c version and 2.5W for 4c version.
【待机频率同样令人激动。AM4版本待机状态频率可以低至550Mhz,这对AMD CPU来说是非常好的情况了。8核待机功耗5W,而4核待机功耗2.5W。】
The SP3 versions have even lower idle clock: it's only 400MHz. Regarding the boost clocks the 32c/180W version has a 2.9GHz boost clock and the 24c/150W version has a 2.75GHz boost clock.
【SP3封装版本待机频率甚至更低:只有400Mhz。至于Boost频率,32核/180W版本Boost频率为2.9Ghz,24核/150W版本Boost频率为2.75Ghz。】
AFAIK Intel has no answer for the 32c/64t Zen variant, so it could be a great win for AMD on the server market.
【就我所知Intel没有与Zen的32核版本抗衡的产品,所以AMD可能会在服务器市场取得胜利。】
What AMD is doing different in case of Zen is the purpose of the CPU. AMD doesn't build it for the future but for the present. Maybe it won't be strong in AVX and FMA but an average user won't realize it because the average user won't use the AVX and FMA capabilities. Average Joe will see that Zen is as fast as Haswell on Intel's side (if AMD won't screw it up) and it's enough for everything what Average Joe does on his PC.
【AMD在Zen上采取策略的不同之处是在CPU的功能上。Zen不是为未来所生,而是AMD着眼现在打造出的产品。在AVX和FMA指令方面不会特别强,但对于一般消费者并不会注意到这些,因为AVX和FMA功能很少用。在普通人眼里,Zen将会和Intel的Haswell一样快(如果AMD这次没搞砸的话),这对于普通消费者已经足够了。】
On server side Haswell IPC and high core count with a reasonable price will convince the customers to give AMD a try. And I hope AMD can grab the chance after all the years of failures.
【在服务器市场,Zen不仅具有Haswell的高IPC,还有更多的核心数,合理的价格定位将会让客户尝试AMD产品。并且我希望AMD在这么多年的失败后,能够抓住这次良机。】
下面是7月14日AIDA64版本更新,已经有了Zen配套的芯片组信息。
Version: 5.75.3916 beta (Jul 14, 2016)
Release notes:
RemoteSensor LCD / JSON API via /api URL

DRAM Timings / improved support for DDR4

extended CPUID features (APM Power Reporting)

extended CPUID features (Connected Standby)

extended CPUID features (Running Average Power Limit)

preliminary support for AMD Naples CPU
preliminary support for AMD Snowy Owl CPU

extended chipset information for AMD Carrizo, Bristol Ridge, Stoney Ridge

extended chipset information for Intel Broadwell IMC, Broadwell-H IMC, Kaby Lake IMC, Skylake IMC,

extended and fixed chipset information for Intel Broadwell-E IMC, Haswell-E IMC, Ivy Bridge-E IMC, Sandy Bridge-E IMC

identification of Intel Core i3/i5/i7-7000 Series (aka Kaby Lake-U)

identification of Intel Core m3/i5/i7-7000 Series (aka Kaby Lake-Y)

improved power measurement for AMD Kaveri, Bald Eagle, Godavari

chipset information for AMD K17 (Zen Summit Ridge) FCH
chipset information for AMD K17 (Zen Summit Ridge) IMC
chipset information for AMD K17.1 (Zen Raven Ridge) FCH
chipset information for AMD K17.1 (Zen Raven Ridge) IMC
chipset information for AMD Promontory ASM2016
SMBus support for AMD K17 (Zen Summit Ridge) FCH
SMBus support for AMD K17.1 (Zen Raven Ridge) FCH

Display / GPU / AMD PowerTune information for Tonga, Fiji, Polaris

Display / GPU / AMD PowerPlay7 clock levels list for Carrizo, Bristol Ridge, Stoney Ridge

Display / GPU / extended AMD PowerPlay7 information

improved GPU clock measurement for AMD Polaris

native memory clock measurement for AMD Polaris

native GPU utilization measurement for AMD Carrizo, Bristol Ridge, Stoney Ridge

monitor information / improved vendor and model name detection

motherboard specific sensor info for Lenovo SkyBay

fixed: GPU current and power measurement for AMD Fiji