数码科技
【AMD Radeon RX 400系列命名规则】 AMD Radeon RX 400 series naming scheme explained
source:http://videocardz.com/61721/amd-radeon-rx-400-series-naming-scheme-explained
自翻,转载请注明出处。
AMD has finally shed more light on its Radeon RX 400 series naming system.
【AMD终于揭露了关于RX400系列命名的更多消息】

AMD Radeon RX 4XX and Radeon 4XX
【RX 4XX和R4XX】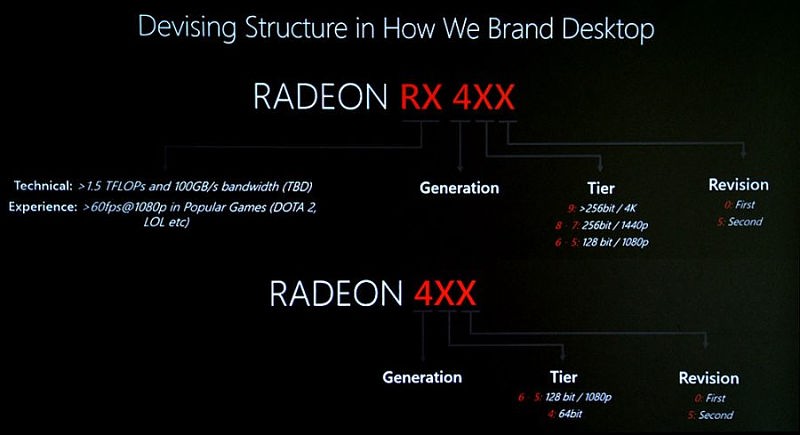 Let's start with the RX. There are two subseries in Radeon 400 stack, the RX 400 and 400. The RX parts will offer >1.5 TFLOps performance and at least 100 GB/s of memory bandwidth. Those cards that do not offer such performance will not use the RX prefix.
【先从RX系列说起。在Radeon400系列中有两个子系列,RX400和Radeon400系列。RX系列提供1.5TFLOPS以上的计算能力,至少100GB/s的内存带宽。没有达到最低限度的卡不会使用RX前缀【类似于目前已经被NV用烂了的GTX】】

AMD confirmed they will be using XX5 revisions, which basically means we might be seeing faster variants released after time, when yields are better, leakage was minimized, or AMD simply decided to release higher-clocked version. A good example would be Radeon HD 7970 and 7970 GHz Edition (being 2nd revision). Hopefully this will also mean less rebrands.
【AMD确认,他们还将使用XX5的改进编号,意味着我们以后会看到性能更好的改进版本,可能是工艺改进,抑或是简单的提高频率。一个比较好的例子就是7970和7970GE。这也意味着马甲卡会变少。】
AMD differentiates 9 tiers which are gathered into 5 groups. Interestingly Tier 6 (46X cards) might use RX prefix or not. I was hoping we could at least get rid of the tier mixing, but this confirms there might be RX 460 and non-RX 460.
【AMD把R400系列分为5组,9个等级。有趣的是第6等级(46X)有带RX的版本,也有不带前缀的。【阉割版】我本来希望最少能够避免混淆,但这已经证实460有带前缀和不带前缀两个版本。】

Of course our attention was quickly put on Tier 9. According to AMD description, Radeon RX 490 and RX 495 cards would be designed for 4K resolution with memory bus exceeding 256-bits. So if the rumors about Vega 10 being used for Radeon RX 490 series are true, then we at least know it's designed for 4K.
【当然我们的注意力都在第9级别上。根据AMD描述,RX490和RX495都是为4K而设计的显卡,位宽超过256bit。因此如果Vega10用在RX490系列上的传闻是真的的话,我们至少知道RX490是专为4K设计的。】