数码科技
【AMD预计将在16年末少量出货Zen,17年初开始完全供应】AMD May Ship Limited Volume of Zen FX Processors in Late Q4 2016, Full Volume Availability in Q1 2017
source:http://wccftech.com/amd-zen-q4-2016-limited-q1-2017-full-shipment/
自翻,转载请注明出处。
AMD has released a new statement on their Zen FX processors during their latest earnings call. According to the statement, AMD expects first shipments of their Zen products later this year which highlights their readiness for bringing their new processor lineup in the desktop PC market. The Zen processors were announced in 2015 and are expected to be available to PC builders in late 2016.
【AMD在最近的财报中发表了关于Zen架构FX处理器的最新声明。根据声明,AMD已经准备好了将新产品线带进桌面PC市场,预计Zen的首批出货将在今年晚些时候。Zen架构首次亮相于15年,或将于16年末向PC爱好者出货。】
The AMD Zen Core is aimed at Desktops, Laptops and Server platforms.
【Zen瞄准了桌面、笔记本和服务器平台。】

AMD Expects Limited Zen CPU Shipments in Q4 2016 ? Full Volume Launch in Q1 2017

【AMD预计将在16年末少量出货Zen,17年初开始完全供应】
The AMD Zen based FX processors are highly anticipated by enthusiasts and gamers around the globe as these chips will bring the performance of CPU on par with Intel's latest processors at very affordable rates. AMD has previously stated that Zen will be shipping in large volume to partners in Q3 2016 but the recent statement is a bit different. AMD's CEO, Lisa Su, had the following to say during the earnings call:
【由于Zen将会带来与Intel最新架构CPU相当的性能和更好的性价比,全世界的发烧友和游戏玩家都很期待。AMD之前说将会在今年第三季度向OEM大量出货,但最近的这次声明则有些不同。AMD CEO 苏博士在财报中说:】
We have been very focused on the server launch for first half of 2017. Desktop should launch before that. In terms of true volume ability, I believe it will be in the first quarter of 2017. We may ship some limited volume towards the end of the fourth quarter, based on how bring up goes and the customer readiness. Lisa Su, AMD CEO via AMD
【我们很关注2017年上半年新服务器平台的发布。桌面版的发布应该会在那之前。换言之,我认为大量供应应该会在2017年第一季度。我们在今年年末会少量出货,这要视各方的情况而定。】
According to Lisa, AMD expects to ship a limited run of their Zen chips to partners for testing and evaluating the readiness of the Zen platform on desktop PCs. This shipment will be commence in Q4 2016 and depending on a variety of conditions which will ultimately determine how many chips will be available for High-end desktop PCs as AMD is targeting enthusiast gamers and PC builders first with Zen.
【按照苏博士的,AMD可能会少量出货给合作伙伴进行测试、评估Zen平台的完善度。这将会在今年四季度末开始】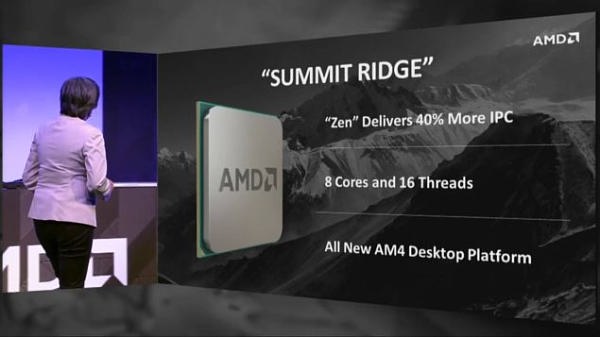 After the limited shipment, AMD would commence full volume shipments in Q1 2017 which means that Zen will be available in full range in early 2017. Many users are waiting to build off their new PCs with AMD's latest chip and to do that, they will have to wait for the first shipment of high-end chips that will probably hit retail in 2016 (Q4). A limited run during the winter holiday season might also prompt AMD to ask for a premium price on their high-end Zen chips with the more price-tuned models shipping in Q1 2017 when wider shipments are available.
【在少量出货后,AMD将会在2017年第一季度开始正常出货,这意味着2017年初Zen将会在各个平台全面铺开。很多用户都等着用AMD的新架构组个新机,他们需要等到今年年底。AMD可能会在冬季假期用高端Zen做出促销,在2017年初出货更多高性价比的中低端型号。】
The Survival of AMD Depends on Zen's Success ? First Chip in Several Years To Achieve Performance Parity With Intel CPUs【AMD的生死存亡取决于Zen是否成功 – 这么多年第一颗能够和Intel抗衡的芯片】

Based on a 14nm process node, the Zen chips are the first in many years which AMD alleges to perform on par with Intel's current generation processors (Skylake). While AMD has presented these numbers on paper where they have hinted that Zen has 40% better IPC compared to their previous generation CPU architectures, there are still not details on actual numbers as far as the performance, efficiency and pricing are concerned.
【AMD声称,基于14nm的Zen是这些年第一颗能与Intel目前的Skylake抗衡的处理器。虽然AMD在ppt上标出了相对与前代40% IPC的提升,但他们依旧对性能、效能、价格数字保守如瓶。】
Knowing AMD, they will hit Intel with very competitive prices and their chips are alleged to feature 95W TDP, the same as Intel's upcoming Kaby Lake-S desktop processors which start shipping in Q4 2016. Aside from the limited details we have on specifications, AMD did demo their Zen processor at Computex and E3 2016 during June and showcased the chip running different applications.
【众所周知,AMD将会用高性价比来和Intel竞争,而且新的处理器功耗为95W,和Intel下代Kaby Lake-S差不多。】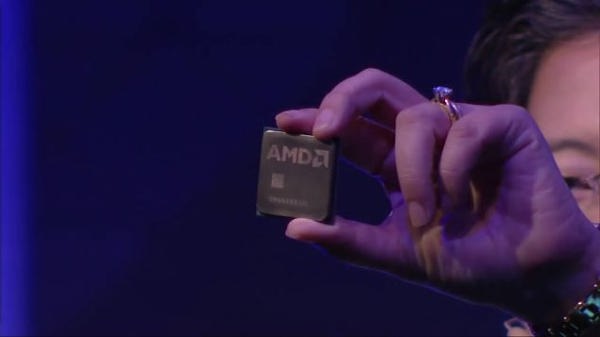 AMD was also kind enough to share some details on the specifications for the Summit Ridge processors. The Zen architecture is simply deployed in Summit Ridge family of FX processors. To make it simple, Summit Ridge stands for the family name, Zen stands for architecture name and FX will be the branding used to determine the various SKUs in the lineup. Specifications of Zen based chips would include 8 cores and 16 threads. The chips can scale up and down depending on the modules enabled or disabled.
【AMD也非常高兴地与我们分享了关于Summit Ridge处理器的部分规格。Summit Ridge为下代处理器家族的代号,Zen为架构名称,而FX命名将会延续。Zen桌面平台将会有最多8核16线程,通过增加和鸽掉模块,也能够推出更多或更少核心的产品】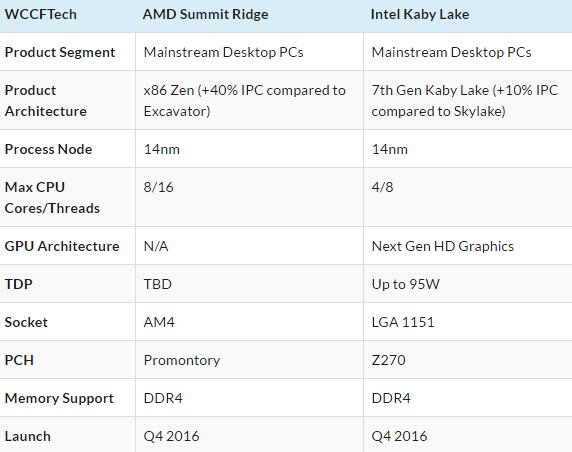 AMD's Latest Zen Based Opteron and Raven Ridge APUs Will Also Be Available in 2017【AMD Zen架构皓龙和Raven Ridge APU也将于2017年出货】
Desktop PCs are just the tip of the iceberg. Sure AMD wants to take back the processor market share with a very competitive lineup but they don't want to just be focused in the desktop PC department. AMD Zen will deploy its cores on several Opteron and APU SKUs. AMD has already mentioned that they have dual socket systems utilizing their Zen based Opterons in their R&D labs with up to 32 cores, that's four modules of AMD Zen 8-Core design. Also for Raven Ridge, AMD will be deploying their Zen CPU and Polaris GPU Duo processor architecture that will be featured in notebooks and laptops later in 2017. The Opteron lineup is expected to market in 1H 2017.
【桌面版仅仅只是冰山一角。AMD肯定想用有竞争力的产品线从Intel手中夺回市场份额,但他们并不只着眼于桌面市场。部分Zen架构皓龙和APU产品也会推出。AMD之前已经提到了SP3插槽的32核皓龙,这货是由4个8核模块组成的。当然Raven Ridge APU也会采用Zen架构CPU搭配Polaris北极星架构GPU,他们将会在2017年晚些时候登陆笔记本平台。服务器的皓龙产品线则预计会在2017年上半年发布。】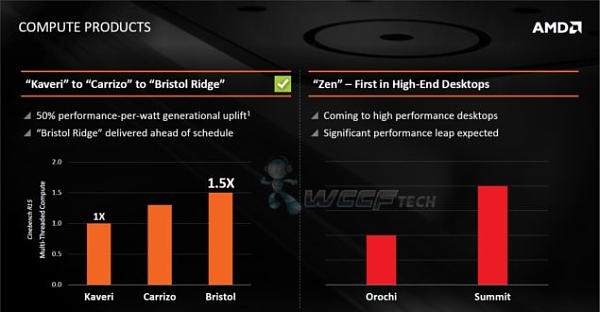 AMD seems to have Zen targeted at all markets but at the end of the day, the sole aspect that will determine Zen's success will be its performance and pricing against competition on Desktop, Laptops and Server platform.
【AMD看起来会把Zen架构用在全平台,但反过来说,Zen作为仅有的独苗,它的性能和价格也将决定AMD在全部市场的未来。】