数码科技
Radeon? Software Adrenalin Edition 18.2.2 Release Notes
Radeon Software Adrenalin Edition 18.2.2 Highlights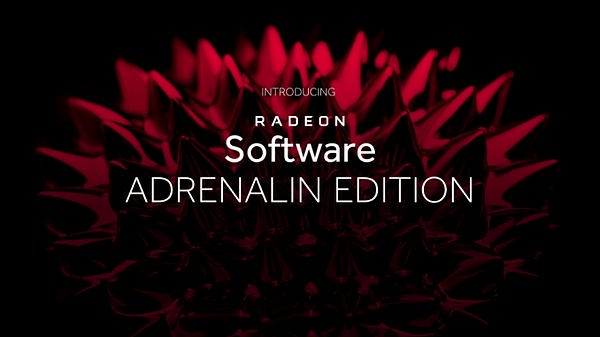 Support For
Kingdom Come: Deliverance?

Up to 3% faster performance using Radeon Software Adrenalin Edition 18.2.2 on the Radeon? RX Vega 56 (8GB) graphics card than with Radeon Software Adrenalin Edition 18.2.1 at 2560x1440p (1440p). RS-210

Up to 4% faster performance using Radeon Software Adrenalin Edition 18.2.2 on the Radeon? RX 580 (8GB) graphics card than with Radeon Software Adrenalin Edition 18.2.1 at 1920×1080 (1080p). RS-211
Fortnite?

Up to 3% faster performance using Radeon Software Adrenalin Edition 18.2.2 on the Radeon? RX Vega 56 (8GB) graphics card than with Radeon Software Adrenalin Edition 17.12.1 at 2560x1440p (1440p). RS-20

Up to 6% faster performance using Radeon Software Adrenalin Edition 18.2.2 on the Radeon? RX 580 (8GB) graphics card than with Radeon Software Adrenalin Edition 17.12.1 at 1920×1080 (1080p). RS-208
PlayerUnknown's Battlegrounds?

Up to 5% faster performance using Radeon Software Adrenalin Edition 18.2.2 on the Radeon? RX Vega 56 (8GB) graphics card than with Radeon Software Adrenalin Edition 17.12.1 at 2560x1440p (1440p). RS-207

Up to 7% faster performance using Radeon Software Adrenalin Edition 18.2.2 on the Radeon? RX 580 graphics card than with Radeon Software Adrenalin Edition 17.12.1 at 1920x1080p (1080p). RS-209
Known Issues
Radeon FreeSync may intermittently incorrectly engage during Chrome video playback resulting in playback flicker.

Radeon Overlay hotkey may fail to bring up the overlay or may cause a Radeon Host Application crash intermittently on a limited number of gaming titles.

Radeon FreeSync may rapidly change between min and max range when enabled causing stutter in fullscreen games on multi display system configurations.

Flickering may be observed on the performance metrics overlay when Enhanced Sync is enabled on some Radeon FreeSync connected `displays.

A random system hang may be experienced after extended periods of use on system configurations using 12 GPU's for compute workloads.

Water textures may appear to be missing in World of Final Fantasy?.

The GPU Workload feature may cause a system hang when switching to Compute while AMD CrossFire is enabled. A workaround is to disable AMD CrossFire before switching the toggle to Compute workloads.
Footnotes
Testing conducted by AMD Performance Labs as of February 9th, 2017 on the 8GB Radeon RX Vega 56, on a test system comprising of Intel i7 7700X CPU (4.2 GHz), 16GB DDR4-3000 Mhz system memory, and Windows 10 x64. PC manufacturers may vary configurations, yielding different results. With the Epic preset on Fortnite, at 2560×1440, the Radeon RX Vega 56 scored 65 FPS with Radeon Software 18.2.2 whereas the Radeon RX Vega 56 scored 63 FPS with Radeon Software 17.12.1. Comparing FPS software versions, Radeon Software 18.2.2 has 3% faster performance in Fortnite. Performance may vary based on use of latest drivers. RS-206

Testing conducted by AMD Performance Labs as of February 9th, 2017 on the 8GB Radeon RX Vega 56, on a test system comprising of Intel i7 7700X CPU (4.2 GHz), 16GB DDR4-3000 Mhz system memory, and Windows 10 x64. PC manufacturers may vary configurations, yielding different results. With the High preset playing PLAYERUNKNOWN'S BATTLEGROUNDS on the Standard map, at 2560×1440, the Radeon RX Vega 56 scored 80 FPS with Radeon Software 18.2.2 whereas the Radeon RX Vega 56 scored 76 FPS with Radeon Software 17.12.1. Comparing FPS software versions, Radeon Software 18.2.2 has 5% faster performance in PLAYERUNKNOWN'S BATTLEGROUNDS. Performance may vary based on use of latest drivers. RS-207

Testing conducted by AMD Performance Labs as of February 9th, 2017 on the 8GB Radeon RX 580, on a test system comprising of Intel i7 7700X CPU (4.2 GHz), 16GB DDR4-3000 Mhz system memory, and Windows 10 x64. PC manufacturers may vary configurations, yielding different results. With the Epic preset on Fortnite, at 1920×1080, the Radeon RX 580 scored 76 FPS with Radeon Software 18.2.2 whereas the Radeon RX 580 scored 72 FPS with Radeon Software 17.12.1. Comparing FPS software versions, Radeon Software 18.2.2 has 6% faster performance in Fortnite. Performance may vary based on use of latest drivers. RS-208

Testing conducted by AMD Performance Labs as of February 9th, 2017 on the 8GB Radeon RX 580, on a test system comprising of Intel i7 7700X CPU (4.2 GHz), 16GB DDR4-3000 Mhz system memory, and Windows 10 x64. PC manufacturers may vary configurations, yielding different results. With the High preset playing PLAYERUNKNOWN'S BATTLEGROUNDS on the Standard map, at 1920×1080, the Radeon RX 580 scored 87 FPS with Radeon Software 18.2.2 whereas the Radeon RX 580 scored 81 FPS with Radeon Software 17.12.1. Comparing FPS software versions, Radeon Software 18.2.2 has 7% faster performance in PLAYERUNKNOWN'S BATTLEGROUNDS. Performance may vary based on use of latest drivers. RS-209

Testing conducted by AMD Performance Labs as of February 9th, 2017 on the 8GB Radeon RX Vega 56, on a test system comprising of Intel i7 7700X CPU (4.2 GHz), 16GB DDR4-3000 Mhz system memory, and Windows 10 x64. PC manufacturers may vary configurations, yielding different results. With Ultra High settings on Kingdom Come: Deliverance, at 2560×1440, the Radeon RX Vega 56 scored 47.4 FPS with Radeon Software 18.2.2 whereas the Radeon RX Vega 56 scored 46.1 FPS with Radeon Software 18.2.1. Comparing FPS software versions, Radeon Software 18.2.2 has 3% faster performance in Kingdom Come: Deliverance. Performance may vary based on use of latest drivers. RS-210

Testing conducted by AMD Performance Labs as of February 9th, 2017 on the 8GB Radeon RX 580, on a test system comprising of Intel i7 7700X CPU (4.2 GHz), 16GB DDR4-3000 Mhz system memory, and Windows 10 x64. PC manufacturers may vary configurations, yielding different results. With the Ultra High preset playing Kingdom Come: Deliverance, at 1920×1080, the Radeon RX 580 scored 55.9 FPS with Radeon Software 18.2.2 whereas the Radeon RX 580 scored 53.5 FPS with Radeon Software 18.2.1. Comparing FPS software versions, Radeon Software 18.2.2 has 4% faster performance in Kingdom Come: Deliverance. Performance may vary based on use of latest drivers. RS-211
Package Contents
The Radeon Software Adrenalin Edition 18.2.2 installation package contains the following:
Radeon Software Adrenalin Edition 18.2.2 Driver Version 17.50.17.04 (Windows Driver Store Version 23.20.15017.4003)
Radeon Desktop Product Family Compatibility
Radeon RX Vega Series Graphics
Radeon? RX 500 Series Graphics
Radeon? RX 400 Series Graphics
AMD Radeon? Pro Duo
AMD Radeon? R9 Fury Series Graphics
AMD Radeon? R9 Nano Series Graphics
AMD Radeon? R9 300 Series Graphics
AMD Radeon? R9 200 Series Graphics
AMD Radeon? R7 300 Series Graphics
AMD Radeon? R7 200 Series Graphics
AMD Radeon? R5 300 Series Graphics
AMD Radeon? R5 200 Series Graphics
AMD Radeon? HD 8500 – HD 8900 Series Graphics
AMD Radeon? HD 7700 – HD 7900 Series Graphics

Mobility Radeon? Family Compatibility
AMD Radeon? R9 M300 Series Graphics
AMD Radeon? R7 M300 Series Graphics
AMD Radeon? R5 M300 Series Graphics
AMD Radeon? R9 M200 Series Graphics
AMD Radeon? R7 M200 Series Graphics
AMD Radeon? R5 M200 Series Graphics
AMD Radeon? HD 8500M – HD 8900M Series Graphics
AMD Radeon? HD 7700M – HD 7900M Series Graphics
Compatible Operating Systems
Windows® 10 (32 & 64-bit version)
Windows 7 (32 & 64-bit version with SP1 or higher)
via:support.amd.com