数码科技
Qualcomm 高通发表Snapdragon 骁龙700 系列移动平台
本文地址:http://www.moepc.net/?post=4457
高通今天正式发表了新的Snapdragon 700 系列移动平台,介于现有的S800和S600系列之间,定位中高端。目前只公布了平台,没有实际的产品发布。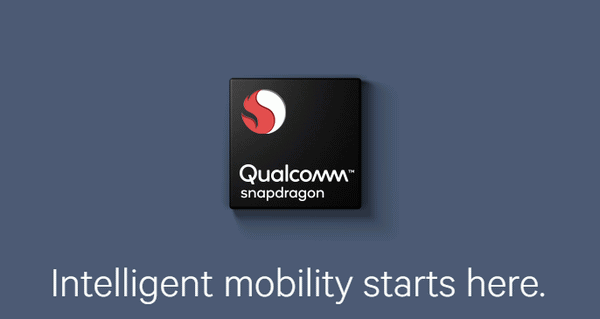 Snapdragon 700移动平台包括:
Kryo CPU

Spectra ISP

Hexagon DSP

高通AI引擎

支持异构计算
听起来是不是和高通的660/65x系列非常接近?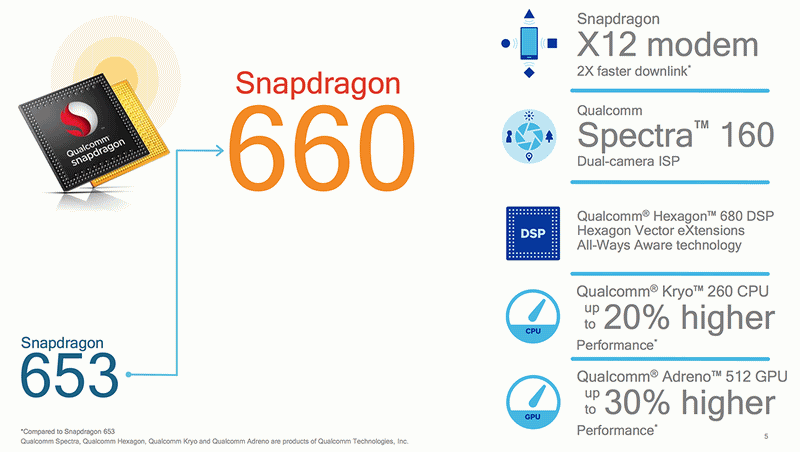 AI:在PR中高通也将S700和S660重点对比,称S700的AI性能比S660高最多2倍,归功于CPU+GPU+DSP的异构计算。
ISP则是专业级功能、高画质的升级。
性能与续航:PR中高通称S700比S660的能效提升30%,续航更长。S700支持高通的QC4+, 15分钟充电50%。
CPU的话估计会是S845所用的Kryo 385(A75+A55)降频砍缓存得来,GPU是新的Adreno 6×0系列IP,所以S700是实质上的S660升级版,比如原来传闻的S670。
高通现有高端产品-S800系列
高通现有中低端产品- S600系列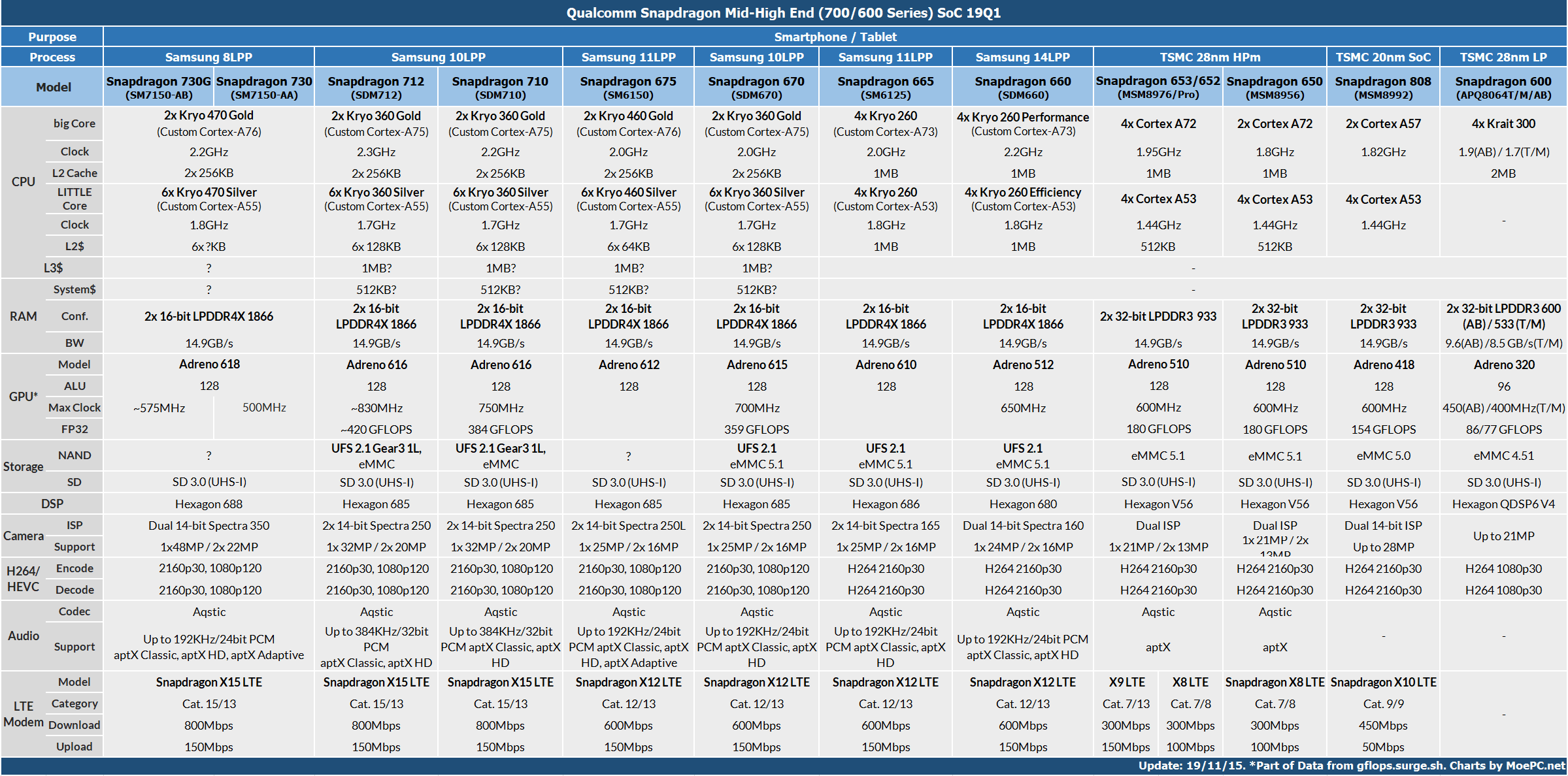 高通现有中低端产品-S600系列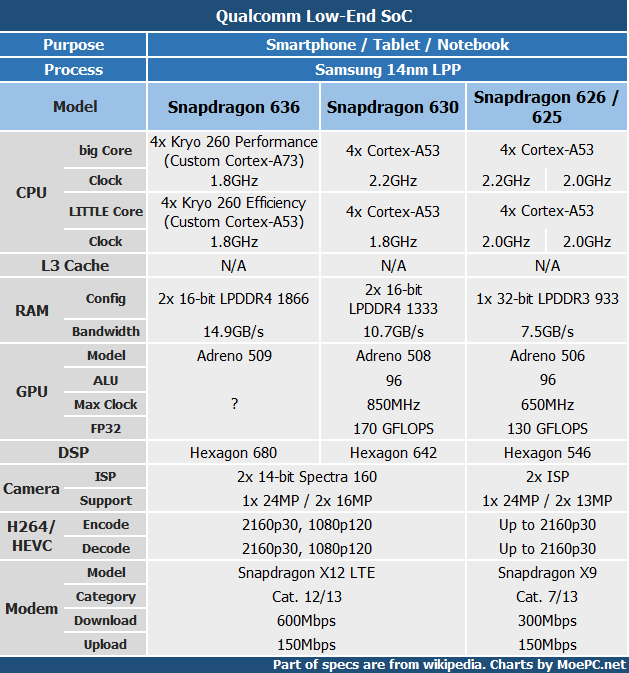 原本S660/S65x这几款SoC,和S63x/62x系列虽然同属S600平台(看起来数字差距不大),性能差距却不小。S660/S65x通常能在中端甚至中高端的机子上见到,CPU和高端S800系列差距并不明显(实际应用中体验接近),GPU在同等级也算比较强力,功能方面则属于标准的中端。
性能更低端的S63x/S62x只有4+4小核,GPU/DSP也更低端,其他功能上则和S660靠近。
所以这次高通把更高端的S600分出来作为S700也是较合理的,原本高通的中低端产品线就已经相当杂乱。重新分级后,买家更容易区分不同的性能等级,厂家宣传上也肯定会拿来吹牛皮。希望改名之后不要提价….
PR原文:
? New Series Designed to Allow Global OEMs to Deliver Premium Features, such as On-Device Artificial Intelligence, in High-Tier Smartphones and Meet Ever-Increasing Demands of the China Smartphone Ecosystem for More Premium Devices ?
Qualcomm Incorporated (NASDAQ:QCOM) announced that its subsidiary, Qualcomm Technologies, Inc., has introduced the new Qualcomm® Snapdragon? 700 Mobile Platform Series, designed to exceed what is expected from today's high-tier mobile experiences, with features and performance previously only available in the premium Snapdragon 800 Mobile Platform Series. Advances to be expected in the 700 Series include on-device AI supported by the Qualcomm® Artificial Intelligence (AI) Engine, and improvements to camera, device performance and power, supported by the heterogeneous compute power of premium features including the Qualcomm Spectra? ISP, Qualcomm® Kryo? CPU, Qualcomm® Hexagon? Vector Processor and Qualcomm® Adreno? Visual Processing subsystem.
"The Snapdragon 700 Mobile Platform Series will bring premium tier technologies and features into more affordable devices, something our global OEM customers and consumers are demanding," said Alex Katouzian, senior vice president and general manager, mobile, Qualcomm Technologies. "From our cutting-edge Qualcomm AI Engine to superior camera, device performance and power, the Snapdragon 700 Series is optimized to support the experiences consumers have come to expect from the most advanced mobile devices at a lower price point."
The Snapdragon 700 Mobile Platform Series is engineered to offer advancements in:
AI: Snapdragon 700 Series products will come with the multi-core Qualcomm AI Engine delivering up to 2x improvements for on-device AI applications compared to the Snapdragon 660 Mobile Platform. Through heterogeneous computing, the new architectures of the 700 Series ? the Hexagon Vector Processor, Adreno Visual Processing subsystem, and Kryo CPU ? work cooperatively to effortlessly capture and share videos, learn voice and speech and make your device last on a single charge without changing applications or settings.
Camera: The Snapdragon 700 Series will unleash the limitless power of the Qualcomm Spectra ISP and make you love capturing your life experiences during all parts of the day and night, in slow-motion, or with the help of AI. Expect a multitude of additional professional grade camera features, supported by high-quality specs, to reside in the 700 Series.
Performance and Battery: The Snapdragon 700 Series will debut new architectures across the mobile platform, including Qualcomm Spectra ISP, Kryo CPU and Adreno Visual Processing subsystem, which will offer up to 30% improvements in power efficiency, and better performance and battery life across numerous applications compared to the Snapdragon 660 Mobile Platform. 700 Series products will also benefit from Qualcomm® Quick Charge? 4+ technology, engineered to get up to 50% charge in only 15 minutes*.
Connectivity: The Snapdragon 700 Tier will feature an advanced suite of wireless technologies with ultra-fast LTE, carrier Wi-Fi features, as well as enhanced Bluetooth 5.
Commercial samples of the first Snapdragon 700 Series Mobile Platforms are anticipated to ship to customers 1H 2018. For more information please visit www.qualcomm.com/snapdragon.
*Based on internal tests charging a 2750mAh fast charge battery and using the maximum power for a thermal limit of 40C for all charging implementations. Charge time based on 0% to 50% utilizing 2017 charging Implementations (September 2016). Certain Snapdragon mobile platforms are designed to allow devices to support 50% battery life with 15 minutes charging. Actual results may vary depending on device design.
本文地址:http://www.moepc.net/?post=4457
VIA:QUALCOMM
MOEPC.NET编辑,转载请保留出处。