数码科技
Intel Cascade Lake 和新系列8th Gen Core将在硬件上修复Spectre #2和Meltdown漏洞
意思是说,软件方法解决性能影响大的,就用硬件修复,通过软件解决不怎么影响性能的就不管他了。
Meltdown和Spectre variant 2会以硬件形式进行修复,Intel没有公布具体细节。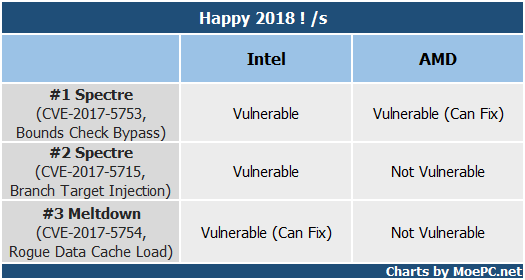 首先提供修复的会是Cascade Lake,也就是Skylake-SP的 Refresh。然后还会有新的8th Gen Core提供修复,具体指的是哪些处理器也未知。
个人拒绝以"提供保护"为题… 比如手机电池爆炸,出个新版本的能叫"提供电池防爆炸保护"吗?
Intel PR原文:
Advancing Security at the Silicon Level
Hardware-based Protection Coming to Data Center and PC Products Later this Year
By Brian Krzanich
In addressing the vulnerabilities reported by Google Project Zero earlier this year, Intel and the technology industry have faced a significant challenge. Thousands of people across the industry have worked tirelessly to make sure we delivered on our collective priority: protecting customers and their data. I am humbled and thankful for the commitment and effort shown by so many people around the globe. And, I am reassured that when the need is great, companies ? and even competitors ? will work together to address that need.
But there is still work to do. The security landscape is constantly evolving and we know that there will always be new threats. This was the impetus for the Security-First Pledge I penned in January. Intel has a long history of focusing on security, and now, more than ever, we are committed to the principles I outlined in that pledge: customer-first urgency, transparent and timely communications, and ongoing security assurance.
Today, I want to provide several updates that show continued progress to fulfill that pledge. First, we have now released microcode updates for 100 percent of Intel products launched in the past five years that require protection against the side-channel method vulnerabilities discovered by Google. As part of this, I want to recognize and express my appreciation to all of the industry partners who worked closely with us to develop and test these updates, and make sure they were ready for production.
With these updates now available, I encourage everyone to make sure they are always keeping their systems up-to-date. It's one of the easiest ways to stay protected. I also want to take the opportunity to share more details of what we are doing at the hardware level to protect against these vulnerabilities in the future. This was something I committed to during our most recent earnings call.
While Variant 1 will continue to be addressed via software mitigations, we are making changes to our hardware design to further address the other two. We have redesigned parts of the processor to introduce new levels of protection through partitioning that will protect against both Variants 2 and 3. Think of this partitioning as additional "protective walls" between applications and user privilege levels to create an obstacle for bad actors.
These changes will begin with our next-generation Intel® Xeon® Scalable processors (code-named Cascade Lake) as well as 8th Generation Intel® Core? processors expected to ship in the second half of 2018. As we bring these new products to market, ensuring that they deliver the performance improvements people expect from us is critical. Our goal is to offer not only the best performance, but also the best secure performance.
But again, our work is not done. This is not a singular event; it is a long-term commitment. One that we take very seriously. Customer-first urgency, transparent and timely communications, and ongoing security assurance. This is our pledge and it's what you can count on from me, and from all of Intel.
Brian Krzanich is the chief executive officer of Intel Corporation.