数码科技
【RX460性能测试 – 瞄准低端市场,效率仍不如Maxwell1】AMD Radeon RX 460 Performance Review Leaked ? First Polaris 11 Card Aimed at Low Priced PCs But Still Not As Efficient as First Gen Maxwell
source:http://wccftech.com/amd-radeon-rx-460-performance-review-leaked/
自翻,转载请注明出处。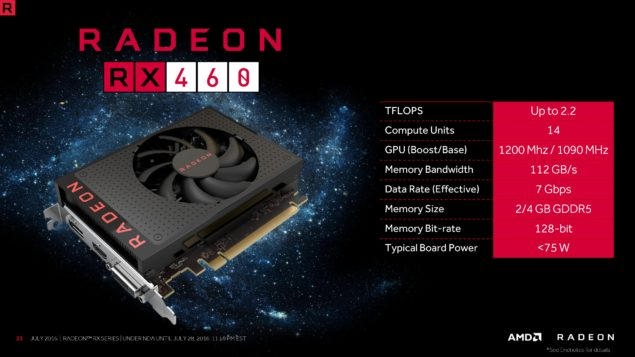 AMD Radeon RX 460 Performance Benchmarks Leak Out ? Polaris 11 Put To The Test In Stock and Overclocked Scenarios
【RX460 默频&超频测试】

The Radeon RX 460 is the first card to feature the Polaris 11 GPU, a very small chip that replaces the Radeon R7 260 and Radeon R7 360 series cards. This chip features 896 stream processors which deliver around 2 TFLOPs of compute performance. AMD has clocked this chip at 1090 MHz core and 1200 MHz boost clocks while the 2 GB GDDR5 model comes with a 128-but interface and clock speeds 7 GHz that deliver 112 GB/s bandwidth. The RX 460 will also be available in 4 GB variants which will feature a higher price point than the 2 GB variants.
【RX460是首个P11 GPU显卡,取代R7 260和R7 360系列。默频1090MHz,Boost 1200MHz,7Gbps 2GB GDDR5显存提供112GB/s带宽,也有4G版本】
Since the card features the same GCN 4.0 architecture as its bigger brother, we will be getting up to 2.8x perf per watt improvement over past generation GCN products such as the Radeon R7 360. The Radeon RX 460 also comes with Display Port 1.3 / 1.4 HDR capabilities.
【RX460相比前代能耗提升显著,带来了DP1.3/1.4HDR特性】
The card will feature a TDP of less than 75W which means it will be powered via the PCI-Express bus and won't need an external power connector. The card features a really small PCB and has a cooler design similar to the Radeon R9 Nano which looks compact and premium for a card that is supposed to be priced around $99 US. In fact, the card will also be available in several custom variants at launch with better PCBs and even additional power connectors (6-Pin) to add more overclocking potential to the Polaris 11 chip.
【RX460的TDP小于75W,这意味着不需要外接供电。PCB很短,散热设计很像R9 NANO。非公版有更长的版本,有的还带6Pin。】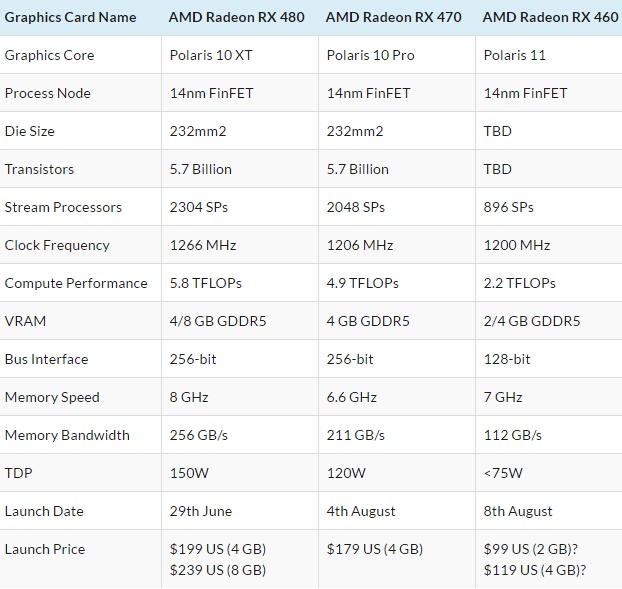 The card tested by PurePC was a factory overclocked and custom model. It was from Gigabyte and utilized their WindForce 2X cooler for superior cooling and a better PCB to deliver stable and clean current to the GPU. They benchmarked the card at both stock and overclocked speeds. Do note that the chip at stock stays with the same core configuration and clock speeds of 1.1/1.2GHz (Base/Boost) while overclocked benchmarks were performed with clock speeds of 1285 MHz core boost and 7.2 GHz memory clock.
【测试的是非公460 技嘉的RX460 WindForce 2X,散热和PCB更好。默认频率为公版的 1.1/1.2Ghz,超频测试为1285Mhz/7200MHz。】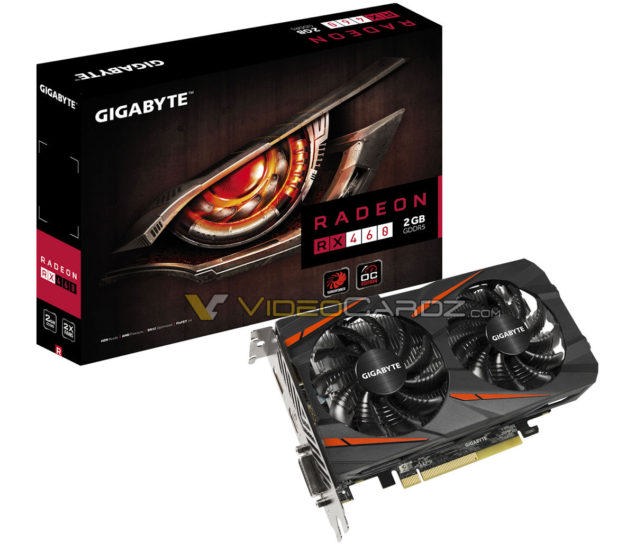 Gigabyte Radeon RX 460 Gaming Performance Figures (Stock):

【RX 460游戏测试(默频)】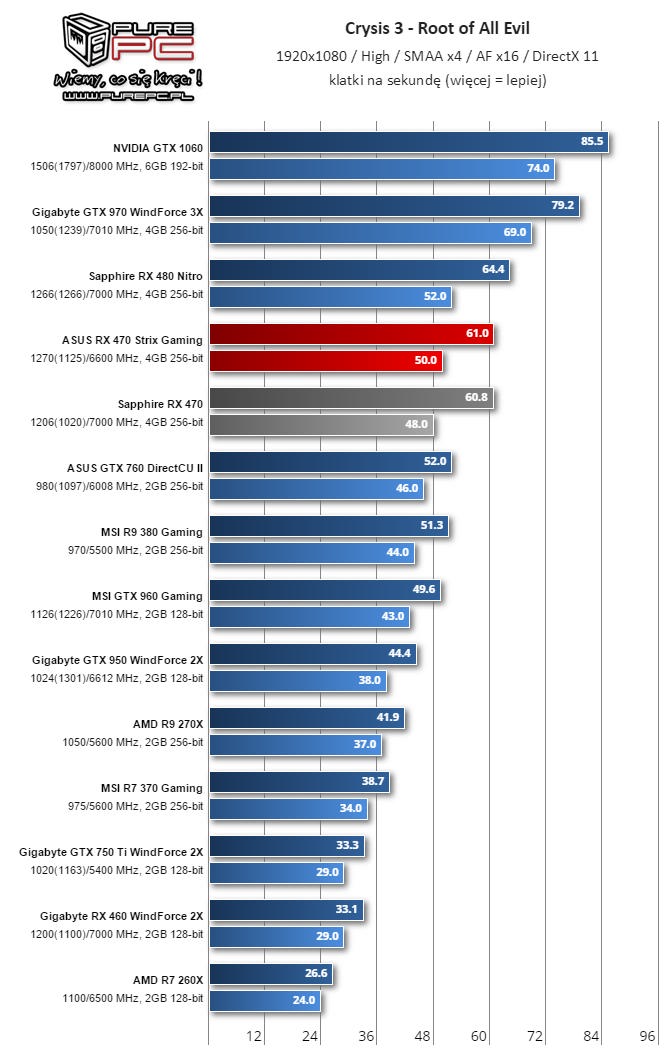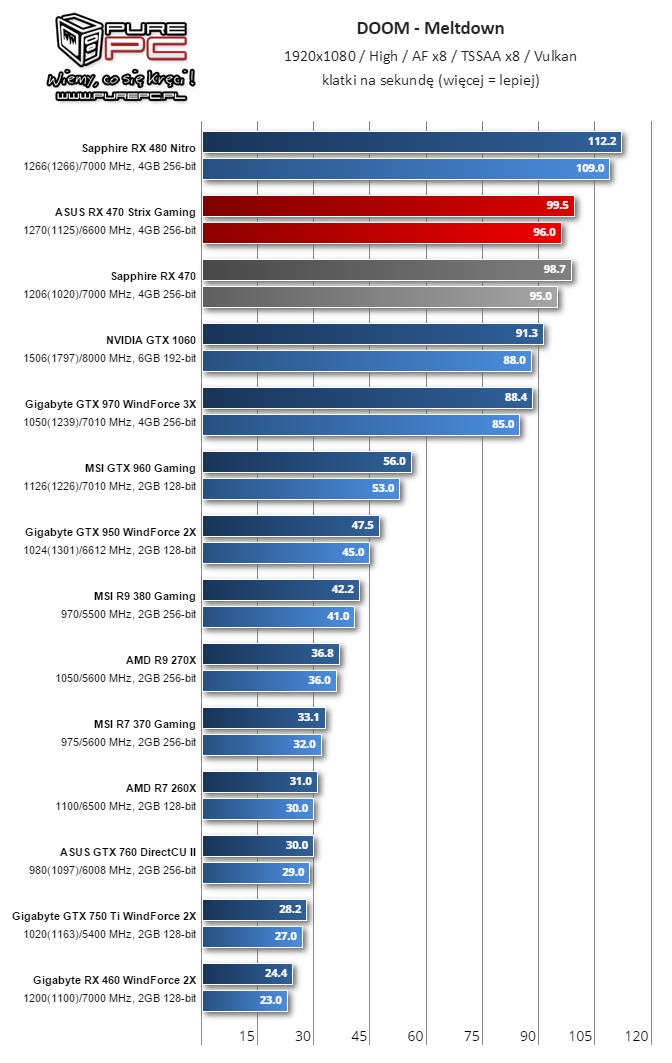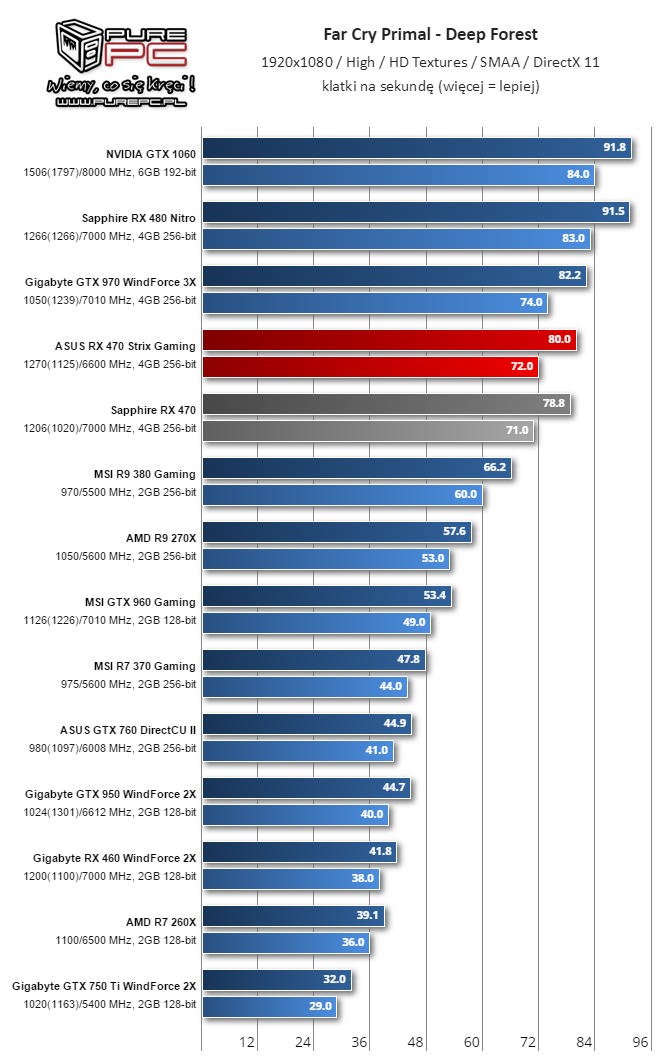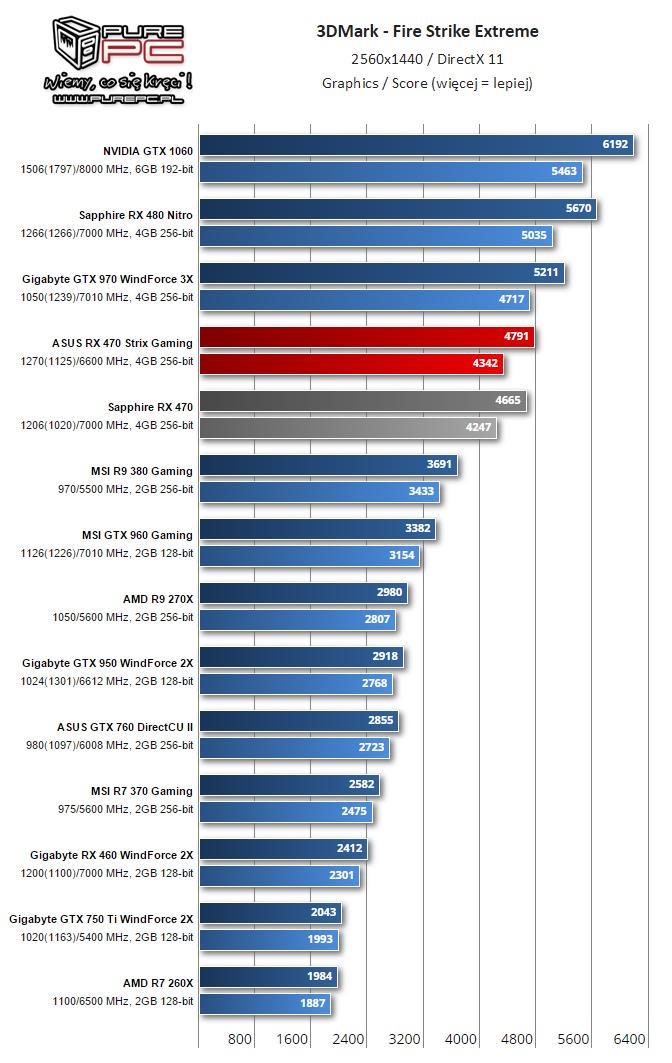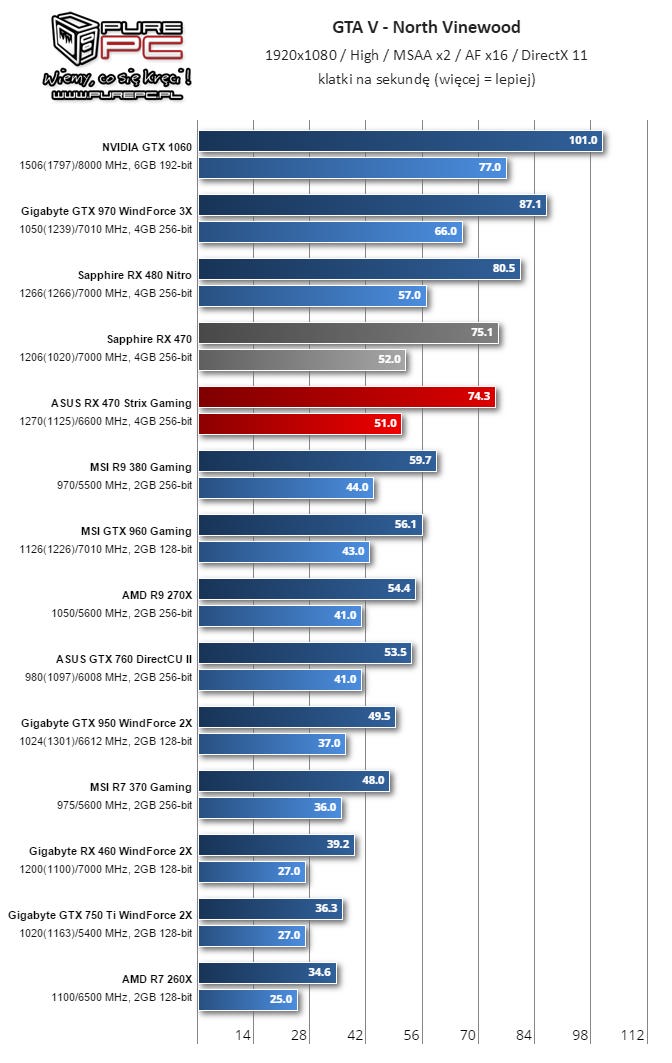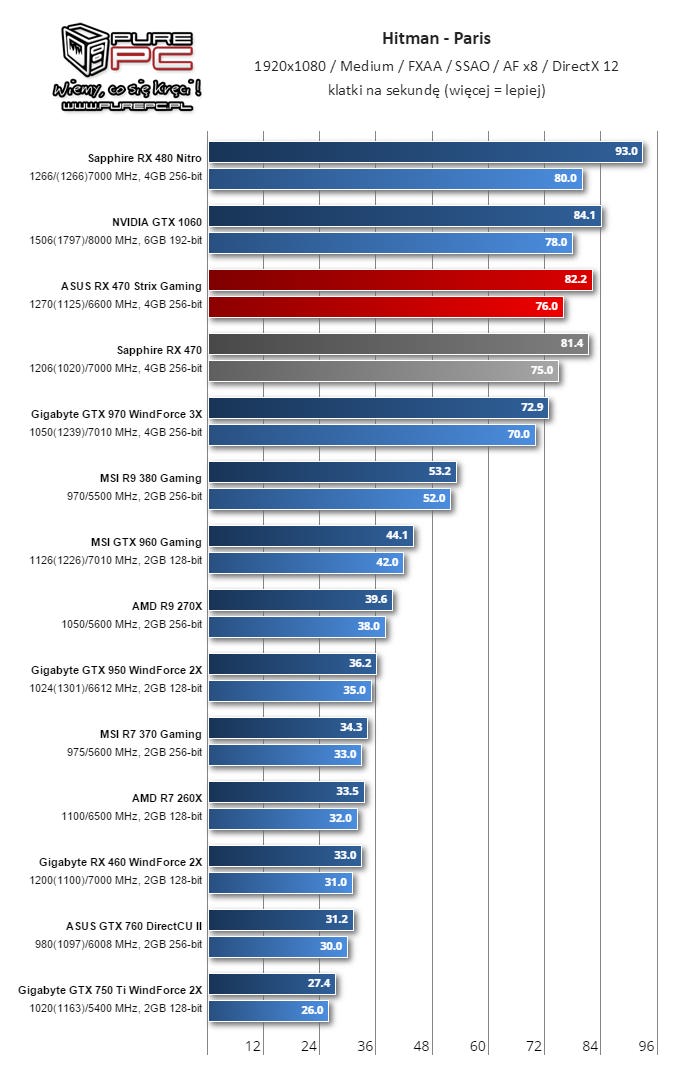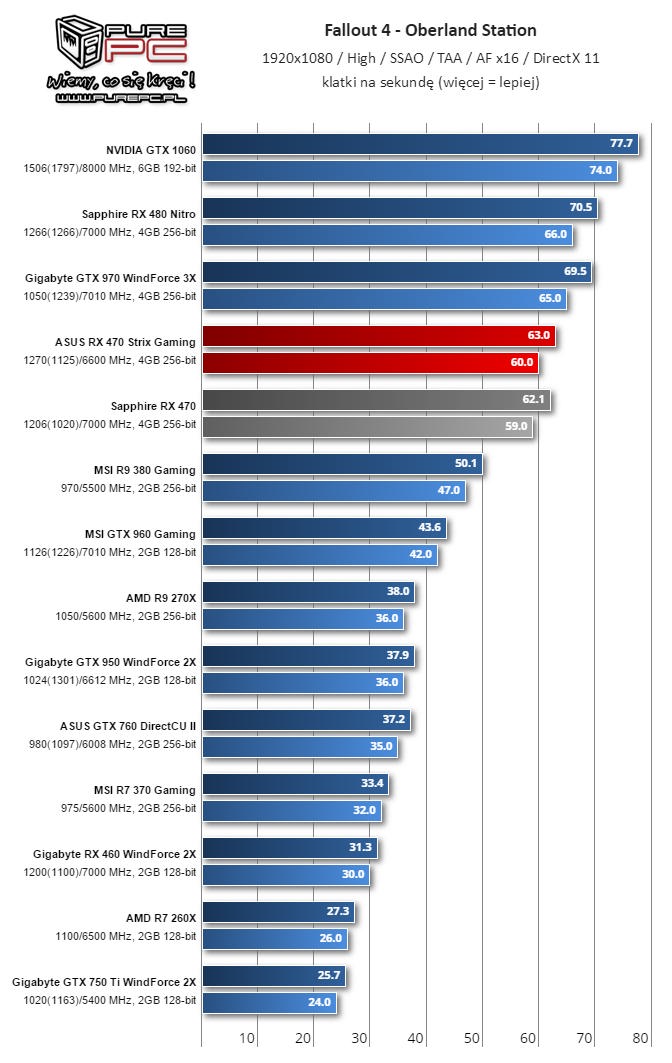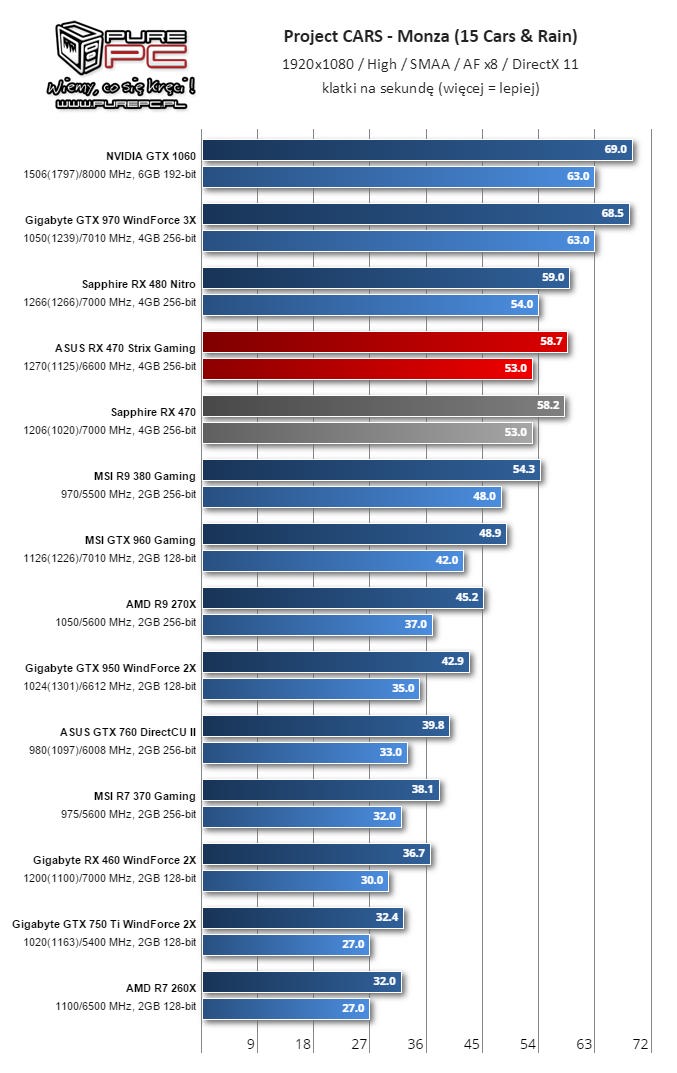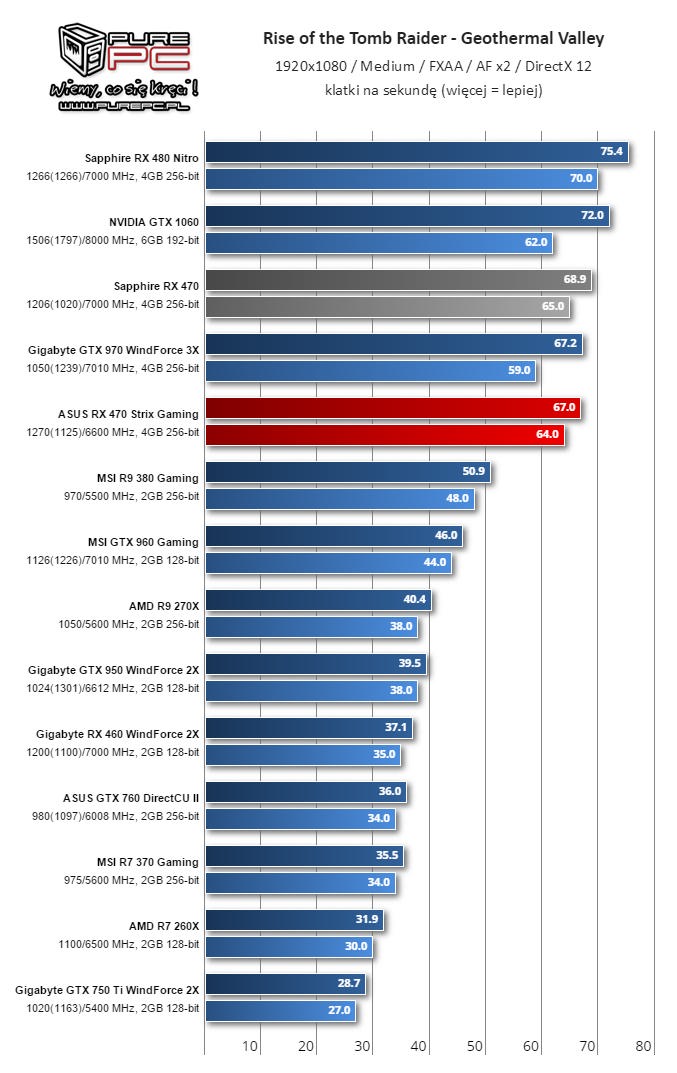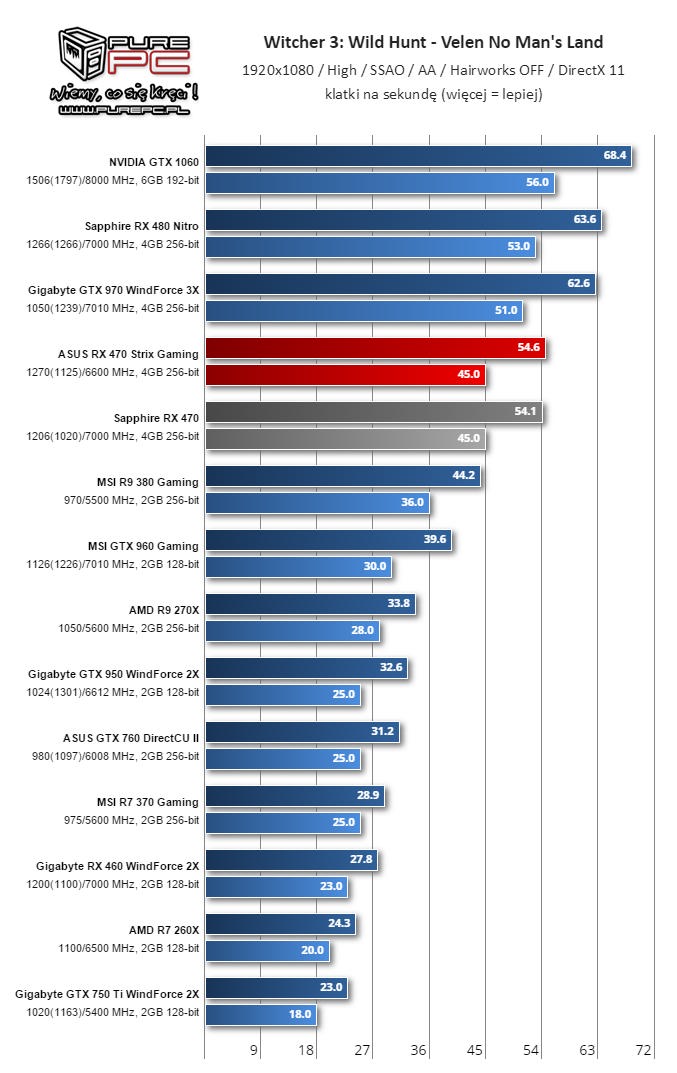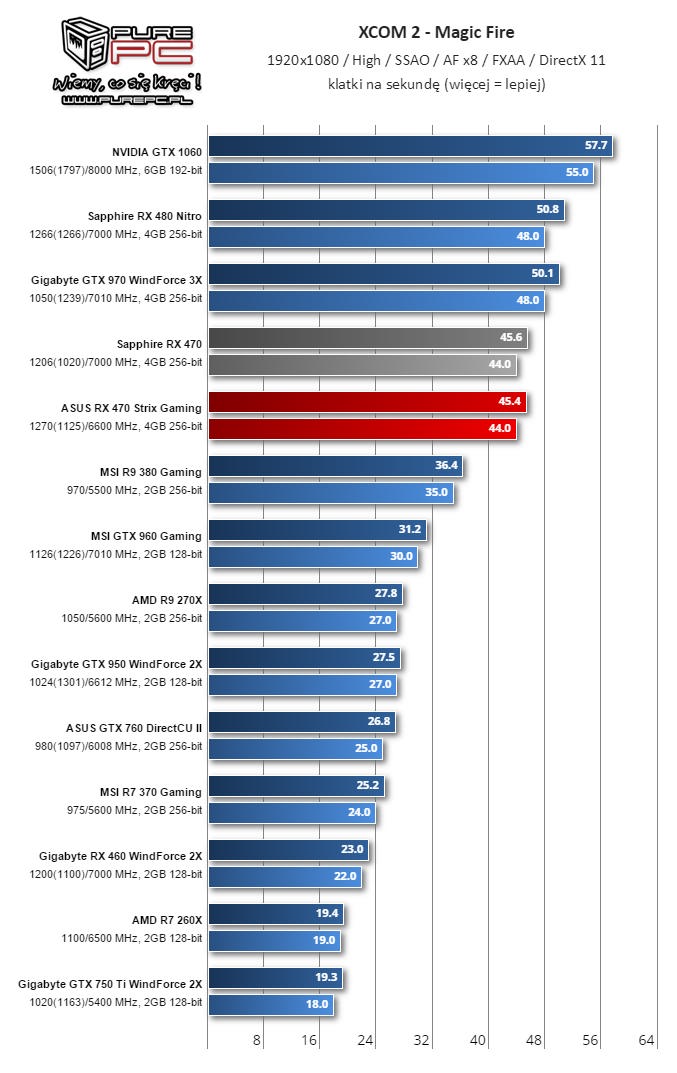 In majority of the gaming benchmarks, the Polaris 11 chip performed very close to the Radeon R7 260X and GTX 750 Ti graphics cards. In some titles, the performance difference was very minimal compared to the GTX 750 Ti and the old graphics card even managed to out perform it in a few titles. In synthetic benchmarks, the RX 460 did show a nice gain but gaming performance is more representative of actual performance.
【大多数游戏中,RX460性能少许领先于260X和750TI。少部分游戏中和750TI持平甚至不如。RX460在测试软件中成绩不错,但游戏里更能表现实际性能】
Gigabyte Radeon RX 460 Gaming Performance Figures (Overclocked):
【RX460 游戏测试(OC 1285MHz)】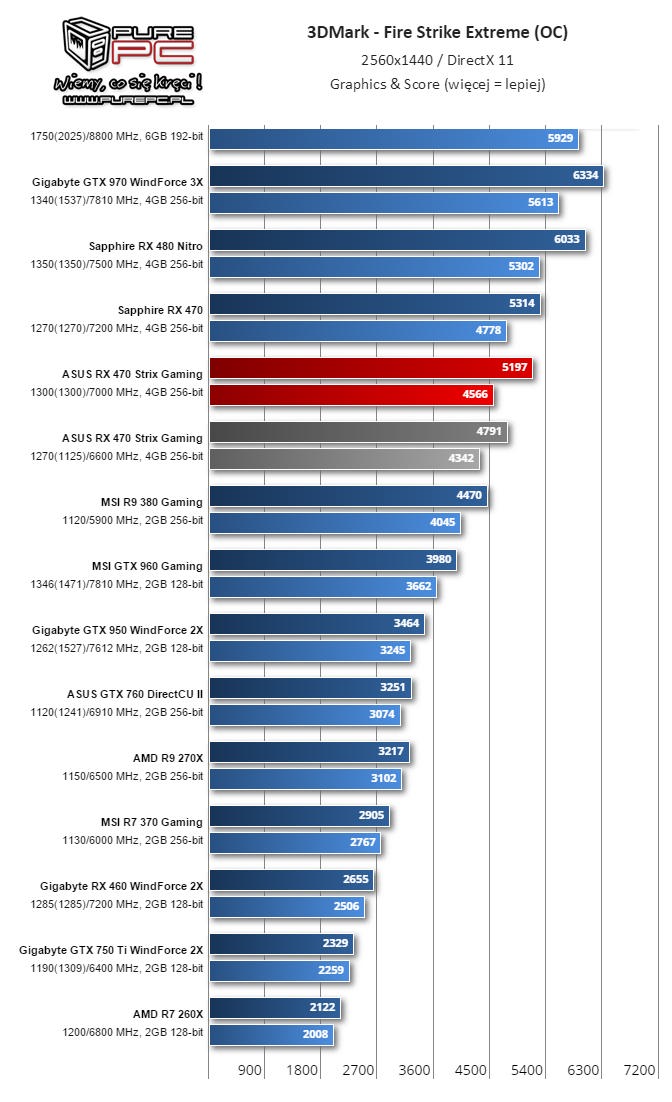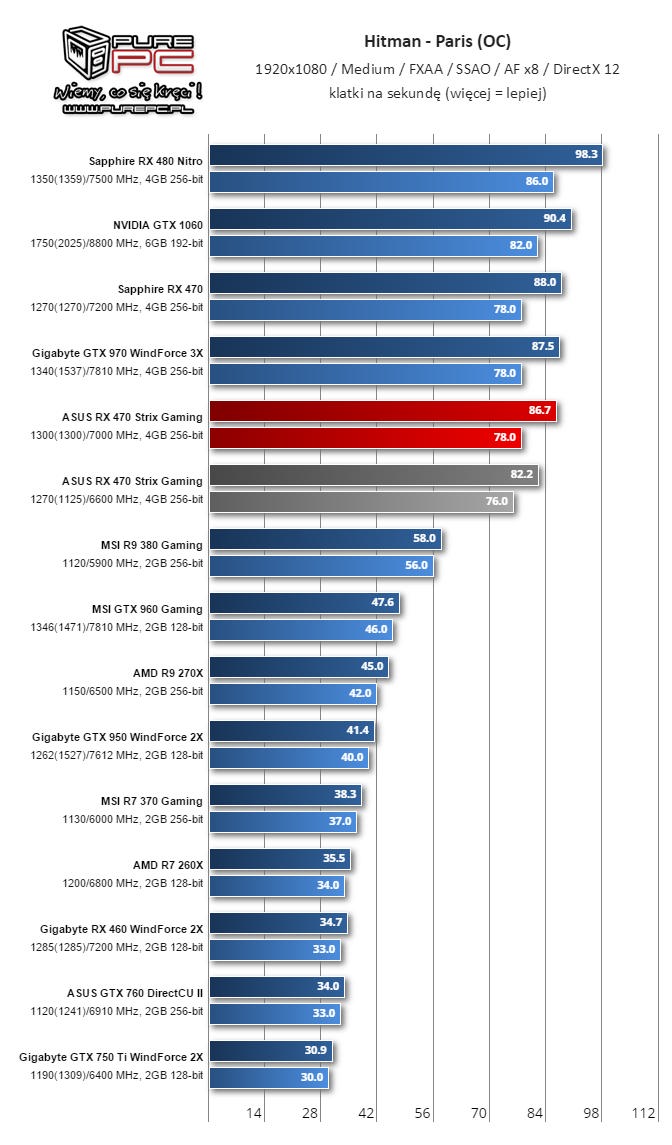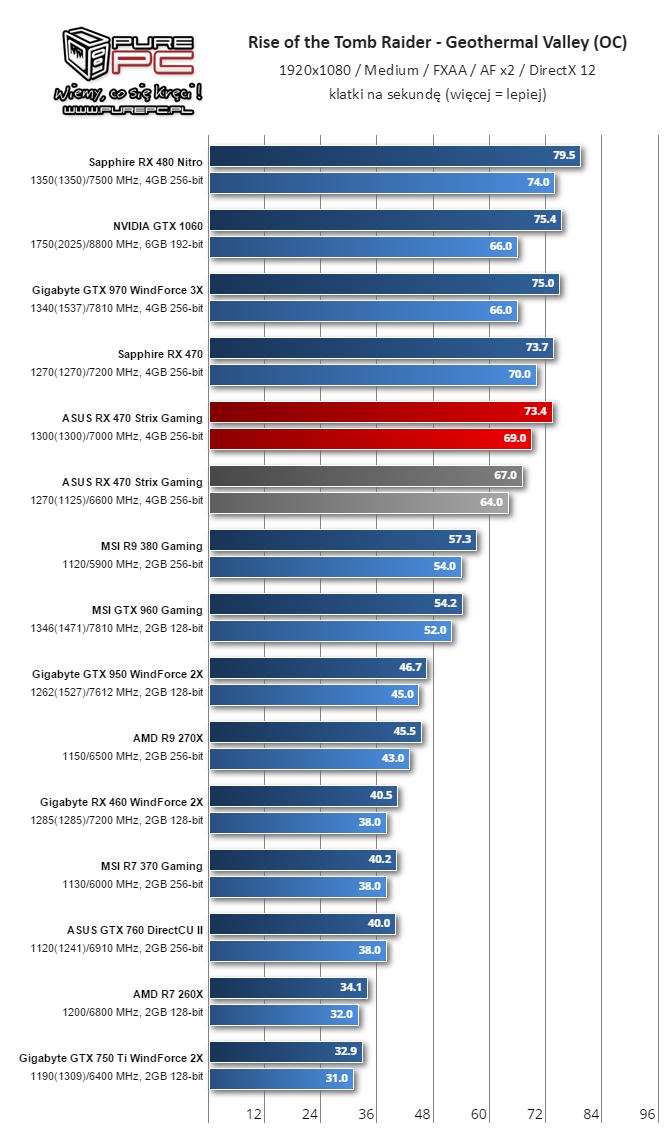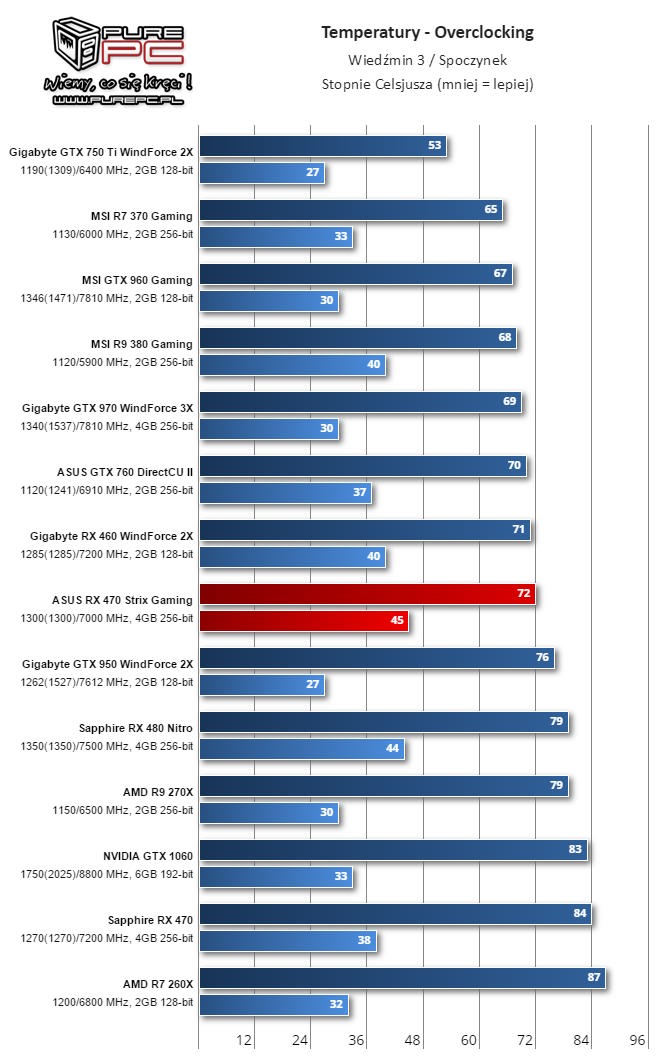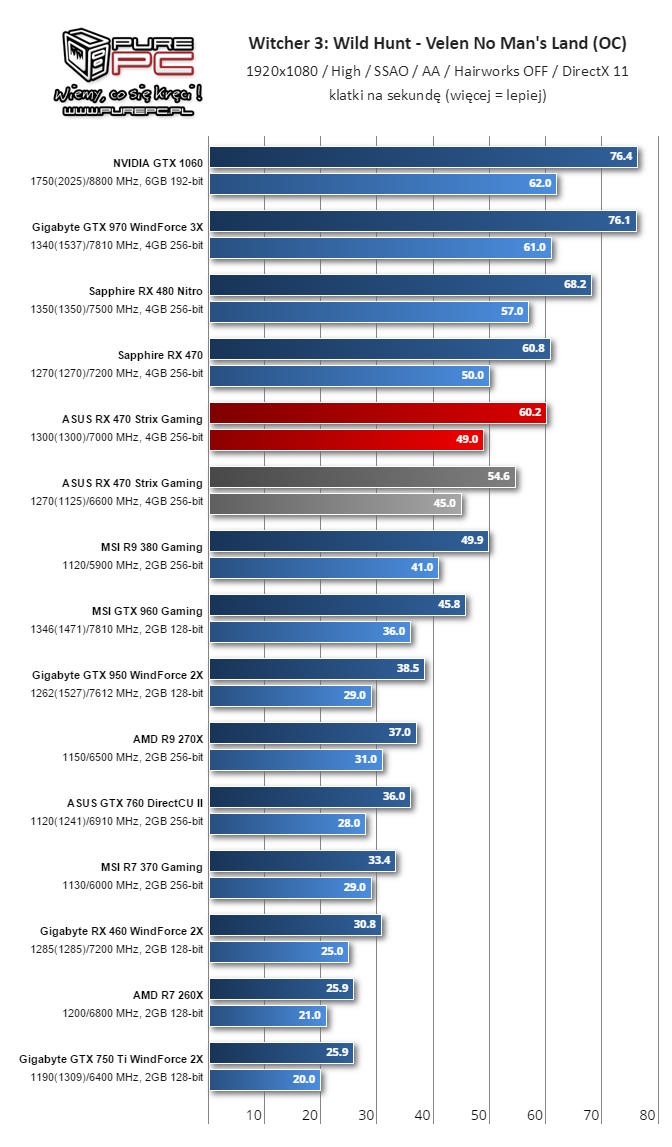 When overclocked, the Radeon RX 460 does show some nice gains but it still doesn't manage to outperform the older Pitcairn based Radeon R7 370 which is based on an architecture that came out back in 2012 and was used to be considered as entry level.
【超频后的确有提升,但还是打不过Pitcairn核心的R7 370【不是同级怎么打。。】】
Gigabyte Radeon RX 460 Gaming Performance Figures (Temps/Power/Noise):
【技嘉RX460性能参数(温度/功耗/噪音)】
战地3 噪声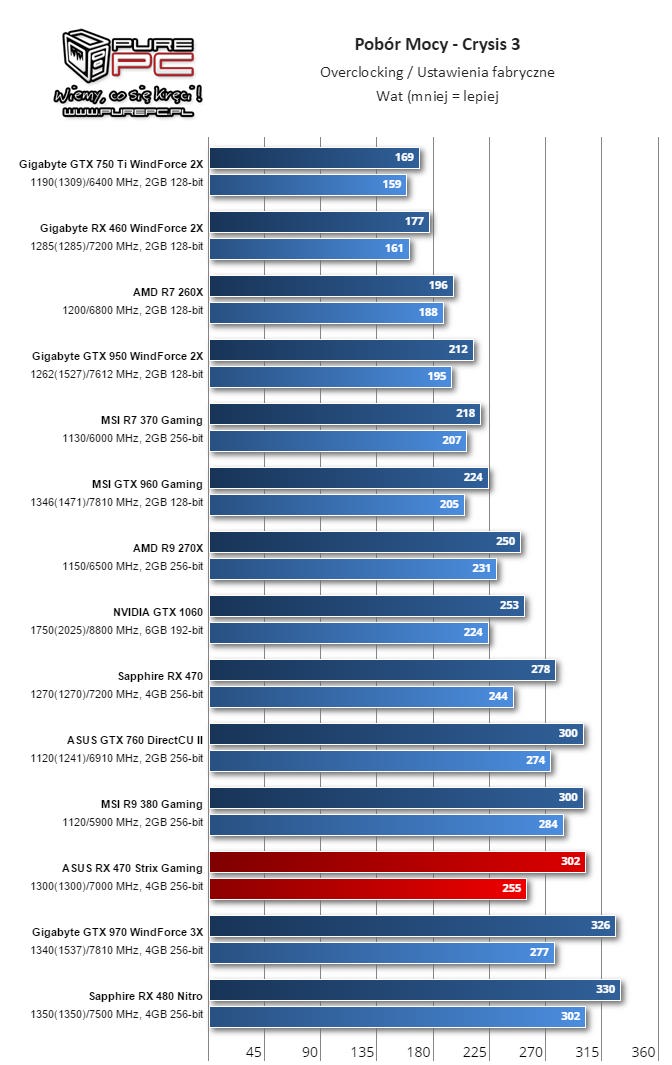 孤岛危机3 满载功耗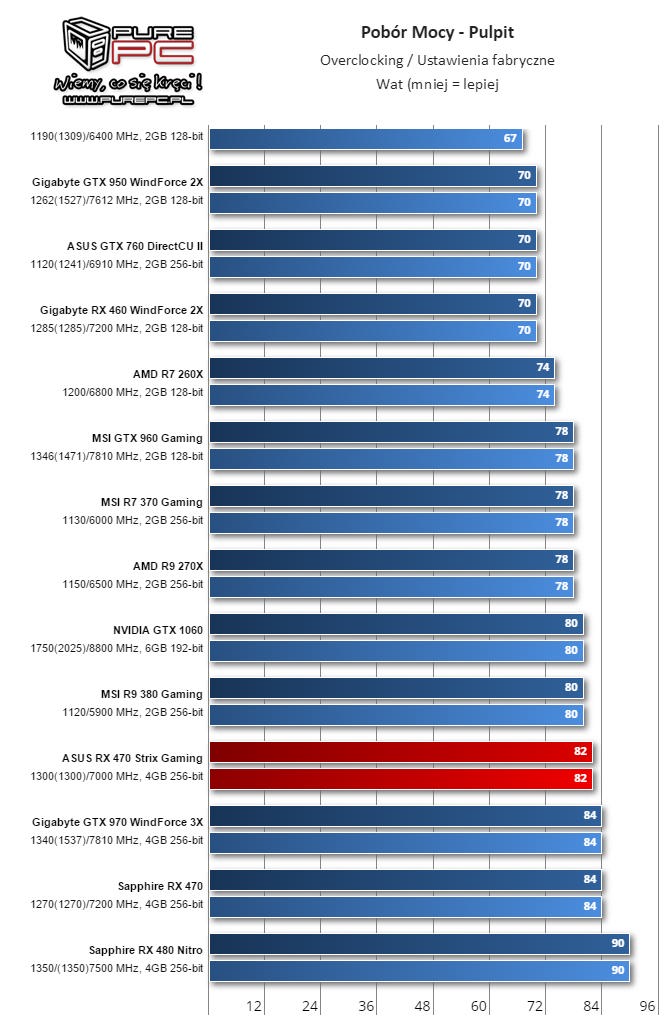 超频后待机整机功耗【看了半天才看懂】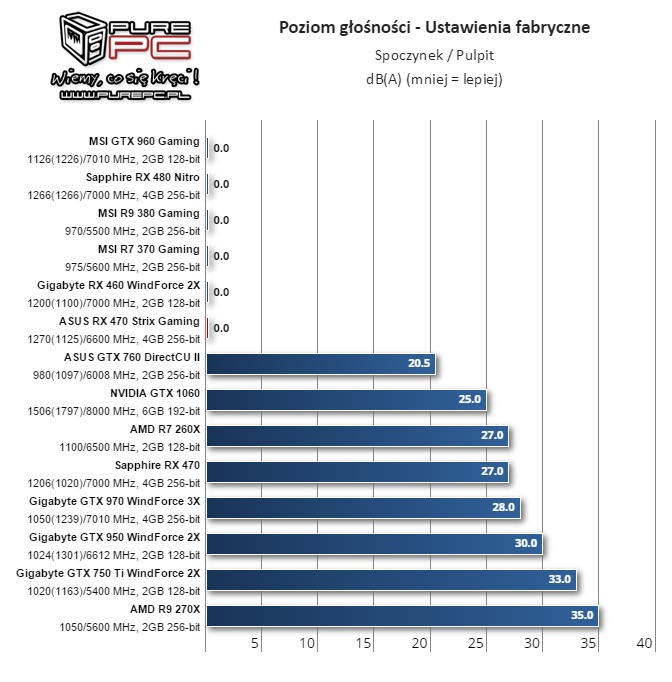 待机噪音
Finally, we have the numbers that are considered important to many consumers out their buying a new card for their brand new PC. First up, we have power consumption. The Gigabyte RX 460 consumed 70W compared to 67W on the GTX 750 Ti. In gaming load, the PC with the RX 460 consumed 177W while the Gigabyte GTX 750 Ti consumed 169W. Do note that this is first generation Maxwell we are talking about that came out in early 2014.
【RX460功耗70W,而750TI在67W,要知道750TI的GM107是2014年初发布的Maxwell1….】
Both cards are also cooled by the same WindForce 2X cooler. In fact, the RX 460 uses a new and revised version designed specifically for the RX 460 which should result in lower temps. That doesn't seem to be the case as the chip has 40C temps in idle and 71C temps at load in gaming. The GTX 750 Ti WindForce 2X on the other hand is cool at 27C idle and 53C load temps.
【这两张卡都用了相同的WindForce 2X散热器,RX460的版本更新一些,理应性能更好。但RX460待机40度,游戏71度的表现有点不像那回事。相对的750TI待机27度,游戏53度。】
The AMD Radeon RX 460 launches on 8th August at a price close to $99 US. The card will be available in both 2 GB and 4 GB variants and will be a very nice option for low-end PC and HTPC builders.
【RX460将在8月8号发布,价格99刀,对于低端PC和HTPC用户会是好选择。】