数码科技
【RX 460 单卡/双卡测试 —入门显卡的好选择】AMD Radeon RX 460 Gets Single and Crossfire 3DMark 11 Benchmarks ? The Super Affordable 'Budget Gaming' Graphics Card
source:http://wccftech.com/radeon-rx-460-crossfire-3dmark-11-benchmarks
自翻, 转载请注明出处。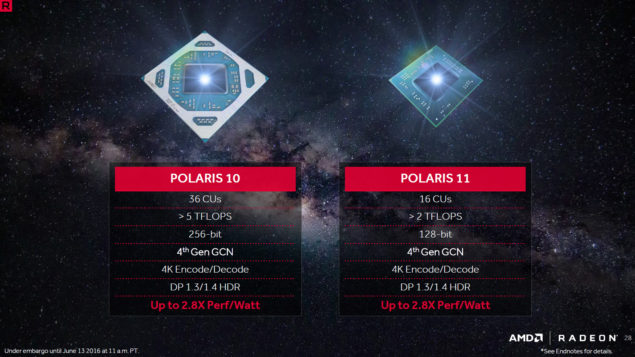 The Polaris 11 based Radeon RX 460 graphics card gets single and crossfire benchmarks【Polaris 11核心 RX 460的单/双卡测试】
Although I have already mentioned this in my previous post, I think its probably wise to point it out here again. The benchmarks were found by tracing the machine IDs of the RX 460. This means that these GPUs were part of AMD's internal testing and were probably tested with partial driver support. While I didn't notice a lot of variation unlike the RX 470, it is still possible that these numbers will improve once driver support for the RX 400 series lineup improves. While its older siblings, the RX 480 and RX 470 were both aimed at the minimum VR spec, the RX 460 is a no-nonsense budget gaming card.
【虽然在前文我已经提到过,但我觉得还是有必要在这里再指出来:这些测试是根据RX460的设备ID扒出来的,这意味着RX460还在AMD内部测试中,可能驱动支持尚不完全。尽管这些测试成绩不像RX470那样有很大波动,但是还是有可能在正式驱动发布后打一针鸡血的。它的大兄弟RX480 470都瞄准了VR最低要求,而RX460则是不折不扣的低价游戏卡。】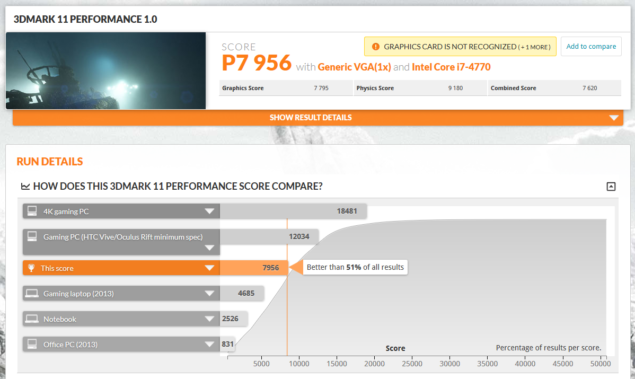 The graphics score of the RX 460 graphics card ranges between 7000 points to 8000 points on the 3DMark 11 benchmark. This is roughly half of what the RX 470 is capable off (~13500 points) ?which makes perfect sense, considering the Polaris 11 GPU is exactly half of Polaris 10. At this performance level, while you are not getting a VR ready graphics card, you will have enough power to run most games at 1080p resolution at reasonable settings. Gone are the days when budget gaming meant a down right horrible gaming experience. When we say the RX 460 is a budget gaming card, we mean exactly that, and not some sad excuse of silicon only capable of HTPC tasks. All the benchmarks given below were conducted with a core clock of 1000 Mhz, if the final product has a higher core clock then performance will improve significantly.
【RX460的3DMark11图形分数在7000-8000之间。大概是RX470的一半,这很合理,因为Polaris11的规格正好就是Polaris10阉割版EllesmerePRO的一半。在这个级别,虽然你的显卡不能带动VR,但是仍然能够在1080p分辨率下以不错的特效流畅大部分游戏。低价游戏卡就意味着日狗的游戏体验的日子已经一去不复返了。我们说RX460是低价游戏卡,意思就是它真的能玩游戏,而不是某些只能流畅HTPC的悲剧卡。所有测试都跑在1000Mhz,如果正式版频率更高的话,性能提升会很显著。】
Radeon RX 460 Benchmark 1 @ 3DMark 11: 7795 Graphics Score, 7956 P-Score【RX460 3D11测试1:图形分7795,P分7956】
Radeon RX 460 Benchmark 2 @ 3DMark 11: 7603 Graphics Score, 7684 P-Score【RX460 3D11测试2:图形分7603,P分7684】
Radeon RX 460 Benchmark 3 @ 3DMark 11: 7749 Graphics Score, 7921 P-Score【RX460 3D11测试3:图形分7749,P分7921】
Radeon RX 460 Benchmark 4 @ 3DMark 11: 7755 Graphics Score, 7933 P-Score【RX460 3D11测试4:图形分7755,P分7933】
You are looking at exactly 16 CUs worth of power here ? which if we follow the conventional ratios of GCN ? equates to exactly 1024 Stream Processors in total. The process of course is the 14nm FinFET node from GloFo/Samsung and AMD is claiming a performance per watt increase of up to 2.8x times over 28nm. If you are a budget gamer, then you probably don't have a very good PSU either, which is where the low TDP requirements and power efficiency of the Polaris architecture will prove to be immensely valuable.
【1024SP,16CU的规格就大概是这么个性能。AMD声称GF/三棒的14nm FinFET带来了最多2.8倍能效提升。如果你给游戏PC的预算不多,那么你的电源可能也不是很好,在这种情况下RX460的低功耗就很适合。】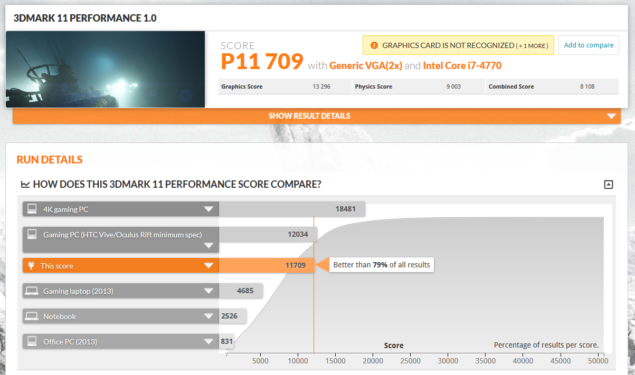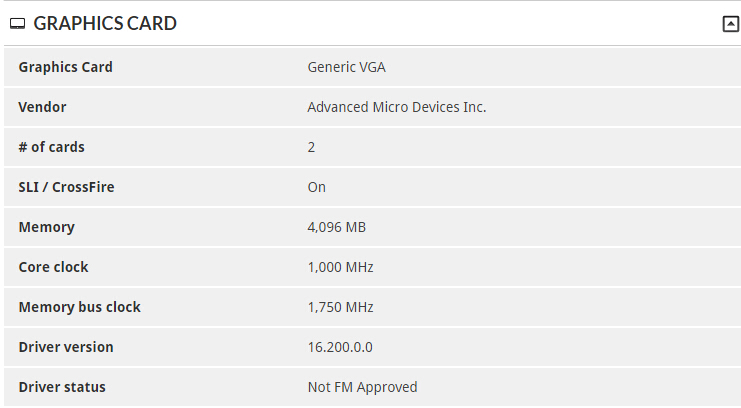 The CrossFire benchmarks are pretty interesting. Although I am not sure why anyone would want to put a couple of RX 460s in CrossFire (just get an RX 470), if we were to assume that there is a hold up and to save everyone you need to put these bad boys in a dual CF configuration ? then you would net the performance of one RX 470 almost exactly. Two RX 460s are able to score a graphics score of 13296 which is enough to land it the minimum VR spec by the way.
【交火成绩很有趣。虽然我很肯定不会有谁会去拿RX460交火。【RX460x2=RX470】万一这种情况出现了呢?为了拯救每个迫不得已拿RX460交火的玩家,我们可以告诉你 —你会得到RX470的性能。两张460可以达到13296的图形分,正好达到VR的最低需求。】
Radeon RX 460 2x CrossFire Benchmark @ 3DMark 11: 13296 Graphics Score, 11709 P-Score【RX460 3D11交火成绩:图形分13296,P分11709】
We don't have any idea of what the price point of the RX 460 is going to be like, but considering that the there is one price point in between the RX 480 and it, anywhere between $99 to $149 is fair game. Although it would probably be much closer to the $99 mark then the $149 mark in all probability. The RX 460 will be fully DirectX 12 capable and feature a tiny cooler. It will almost certainly not require any external power connectors and will run from power through the PCIe (max power draw of 75 Watts).
【还不清楚RX 460的定价会是多少,根据470 480的定价,应该在99-149刀左右,可能更接近99刀一些。RX460完整支持DX12,并且散热器很小。它不需要任何外接供电,PCIe的供电就已经足够。】
AMD GCN4.0新卡阵容