数码科技
【Intel 下代Skylake至强V5系列 工程样品曝光】Intel Skylake Xeon V5 Engineering Samples Spotted
Intel's next generation Skylake based Xeon V5 server parts have been listed down at Zauba. The engineering samples give us a glimpse at the specifications for Intel's upcoming Xeon processors. Intel recently released their Broadwell based Xeon V4 series and that would be replaced by Skylake based Xeon V5 series in 1H 2017.
【Intel下代Skylake 至强V5系列在Zauba上曝光。这些工程样品让我们得以看到下代至强的大致规格。Intel最近才发布基于Broadwell的至强V4,换代的至强V5将在明年第一季度发布。】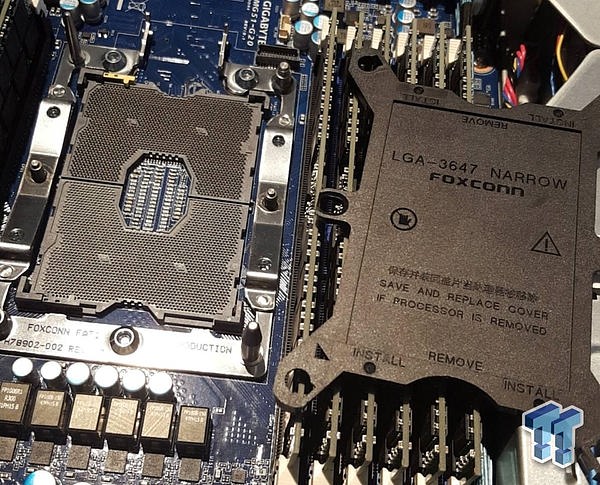 Intel's next gen Xeon V5 processors will be supported on the LGA 3647 socket.
【至强V5将使用LGA3647】

Intel Skylake Xeon V5 Processors Revealed ? 28 Core Processor Confirmed With 165W TDP
【至强V5系列 – 28核,165W TDP】

There are a couple of processors listed down over at Zauba. It should also be pointed out that all processors listed on the site are engineering samples and final specifications are expected to change. As for specs, we are starting at 4 cores and going all the way up to the 28 core SKU. Intel Skylake brings a lot of new features to the table and one of those is the latest Purley platform.
【Zauba上列出了一系列的处理器。需要指出的是,这些处理器都还是工程样品,最终规格可能会有改动。从4核到28核的都有,SKL至强V5带来了一些新特性,其中包括最新的Purley平台。】

The Purley platform is a scalable and unified platform that would support 2S, 4S and 8S chips in the Skylake-EP and Skylake-EN lineup. It will feature the Storm Lake Gen 1 architecture. This is Intel's next generation Omni-Path interconnect that will be featured on Purley while the Lewisburg PCH will be powering the entire platform. The new fabric can deliver up to 100 GB/s interconnect speed with 56% lower latency compared to the current generation Infini-band Inter connect, allowing up to 48 ports with the new Switch Chip architecture.
【Purley平台属于可拓展通用平台,支持双路、四路和八路SKL-EP/EN处理器。在Purley平台上同时还有Storm Lake Gen 1 架构,这是Intel的下一代Omni-Path互联技术,新的结构能带来100GB/s的互联速度,并降低56%的延迟(相较于目前采用的Infini-band互联),在新的Switch Chip 架构下,能支持最多48个端口。】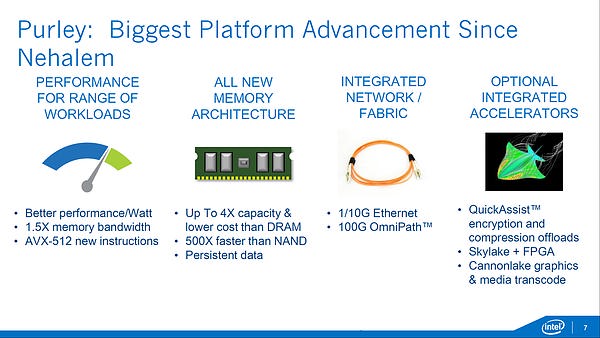 Purley platform comes with a range of new features for Intel's Xeon processors.
【Purley平台带来了新的特性】

The new platform also comes with an updated socket. The socket has been upgraded to feature 3647 pins that gives it the LGA 3647 name. The socket is surrounded by 12 DDR4 DIMM slots. This is due to support for next-generation hexa-channel memory and Intel's Optane DIMMs for faster latency solutions. Overall, Purley will be expanding Intel's server platform wit a range of new features.
【新平台,新插槽。新插槽名称为LGA3647,每插槽12个DDR4 DIMM内存槽,因为新平台支持6通道内存和Intel的Optane DIMM解决方案。】

Upcoming Intel and AMD Server Platform Comparison:
【下代Intel、AMD服务器平台】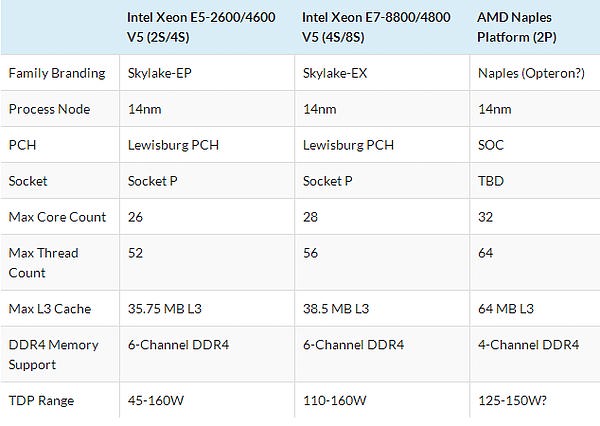 The Intel Skylake Xeon V5 Processors (ES)
【Skylake至强V5处理器(ES)】

The Xeon V5 processors that were listed down include 11 different parts. These mostly include 165W, 145W and 135W parts. The beefiest variant is the 28 core, 56 thread SKU that is clocked at 1.8 GHz and has a TDP rated at 165W. The surprising thing about Skylake Xeon V5 is that it features a different cache system than previous Xeon processors. Each core has 1.375 MB of dedicated L3 cache. On Broadwell Xeon V4, each core featured 2.5 MB of dedicated L3 cache.
【曝光的共有11款工程样品,主要是165W、145W和135W版本。规格最强的是28C/56T的165W版本,主频1.8GHz。比较特别的是Skylake至强的缓存系统与前代不同,每核心只有1.375MB的L3,而在Broadwell至强V4上,每核心都有2.5MB的L3。】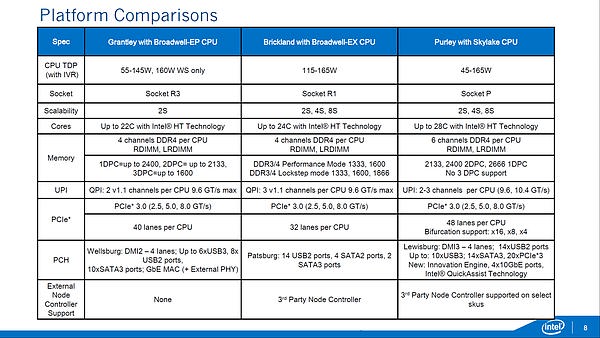 We don't know the reason for this change but this was also seen on the Skylake-X roadmap chart which reveals the same cache numbers for 10 core SKUs. While this is definitely lower cache than previous gen processors, it should be expected that Intel will compensate this loss by adding some architectural improvements on the big dies. The cache system won't be affected on the mainstream desktop and mobile parts. You can see the details for the V5 SKUs in the chart below:
【还不清楚为什么Intel会这样做,但我们从Skylake-X的路线图中可以看出同样的改动 – 10核版本的L3被砍到了13.75MB,这显然比前代的10核25MB要少很多。Intel可能在架构上做了改进,抵消了这部分缓存的缺失。
主流桌面和移动市场的缓存系统依然没有变化。改动仅限于SKL-EP/EN和SKL-X。】
Intel Skylake Xeon V5 ES Specs:
【Skylake 至强V5 工程样品规格】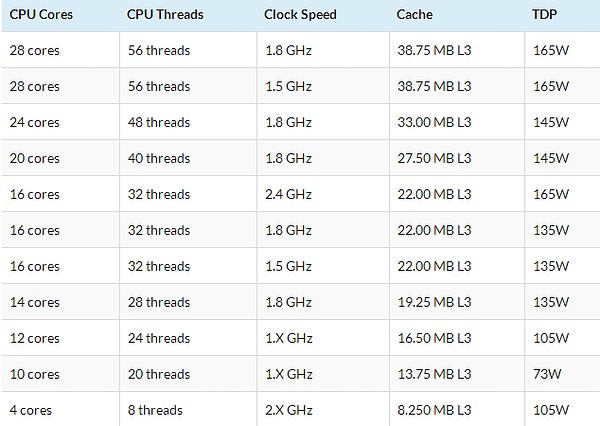 Intel Skylake Xeon V5 and AMD's Naples platform will fight off in the server marking in 2017.
【至强V5系列将在2017年与AMD的Naples平台同台竞技。】

Skylake Xeon V5 will be going up against AMD's Zen based Naples platform next year. Intel has for long reigned their dominance in the server market but AMD is confident that their chips will feature performance parity with their rivals after a very long time
【Intel在很长一段时间里统治了服务器市场,但AMD对于新处理器很有信心 – Zen将会带来和Intel处理器相当的性能。】
source:http://wccftech.com/intel-skylake-xeon-v5-processor-lineup/
自翻,转载请注明出处,严禁私自篡改标题、内容以及二次投递。