数码科技
【AMD Zen CPU及配套高端芯片组X370 将在17年2月到来】AMD Zen CPUs & High-End "X370" AM4 Motherboards Coming February 2017
AMD's family of desktop Zen CPUs code named Summit Ridge will reportedly be available on shelves by February next year. Accompanied by a collection of AM4 motherboards, flagshipped by the company's brand new high-end X370 series chipset.
【AMD的Zen系列CPU以及配套的AM4主板,包括旗舰X370系列芯片组,将会在明年2月进入市场。】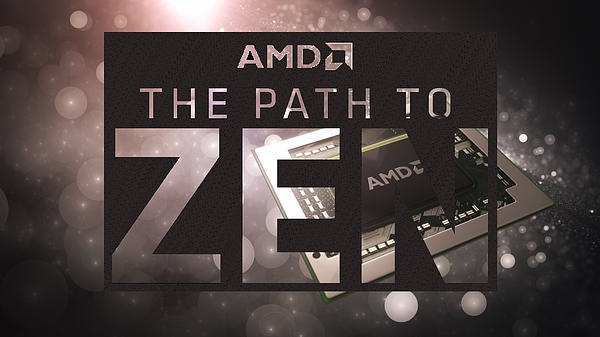 This update which we're bringing you courtesy of our friend Chris L over at Benchlife also makes mention of AMD's new Bristol Ridge series of desktop APUs based on the Excavator CPU architecture and GCN 3.0 graphics architecture.
Summit Ridge & Bristol Ridge CPUs & APUs share pin to pin compatibility on the AM4 socket. Giving prospective Bristol Ridge owners a clear upgrade path to the high-end Zen "Summit Ridge" parts. Bristol Ridge APUs have begun shipping to OEMs earlier in the week. Boxed DIY Bristol Ridge APUs will be available, we're told, in retail stores some time within the next couple of months.
【Summit Ridge CPU以及Bristol Ridge APU 通用AM4插槽,每个脚位都互相兼容,使得Bristol Ridge用户在未来能轻松升级到Summit Ridge系列的高端处理器。Bristol Ridge APU这周早些时候已经开始向OEM出货,在数月内盒装的Bristol Ridge APU也会出现在零售市场。】
AMD Bristol Ridge Desktop AM4 SKUs:
【Bristol Ridge 桌面版 AM4 APU】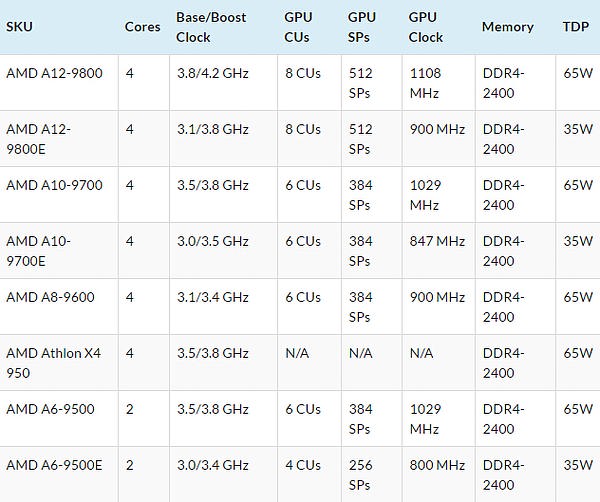 AM4, New Socket, New Chipsets & New Features
【AM4 -新插槽,新芯片,新特性】
There will be three different chipsets for the AM4 socket to serve different areas of the market. The highest end chipset has now been revealed to be the X370. If you're planning to build a Summit Ridge based build this will likely your best way to go. Along with the X370 chipset AM4 will also support two other chipsets for the mid-range and entry level market dubbed "B350" and "A320".
【AM4会有三种不同芯片组,Summit Ridge玩家肯定会选择的高端X370、中端和入门级的B350、A320。】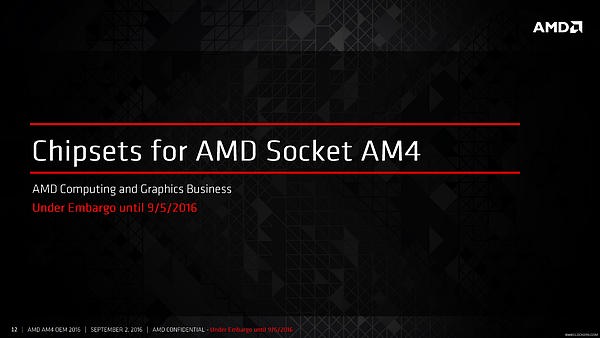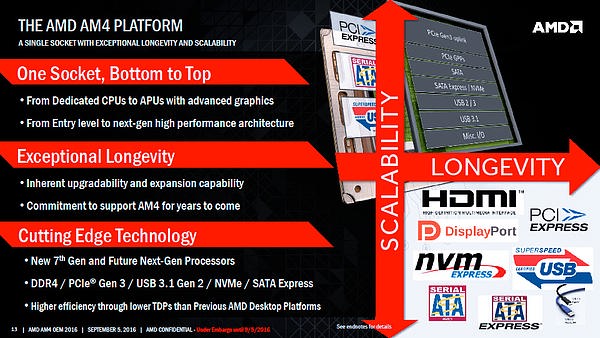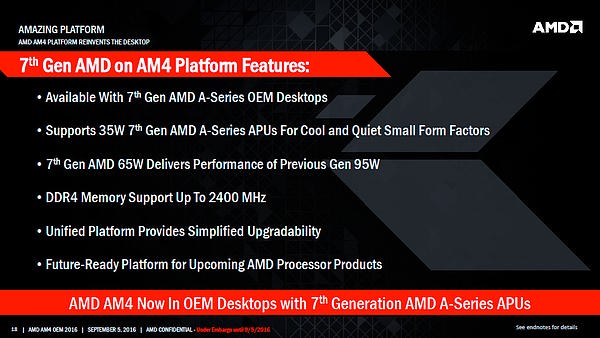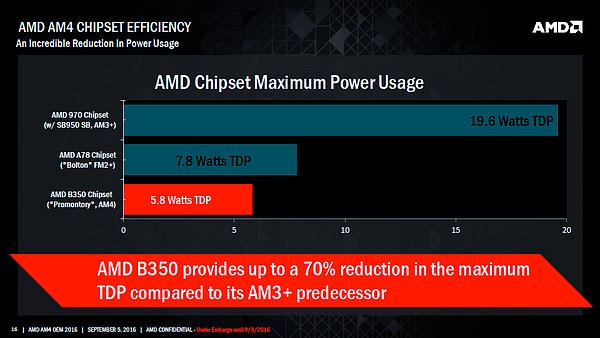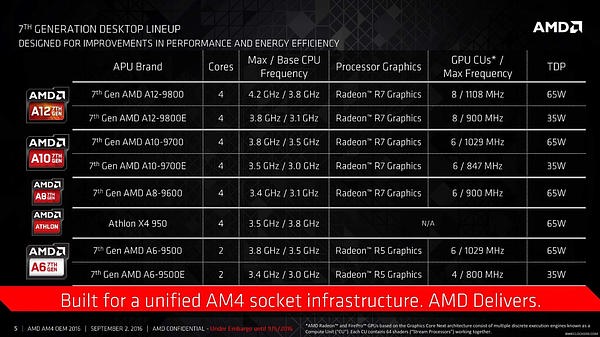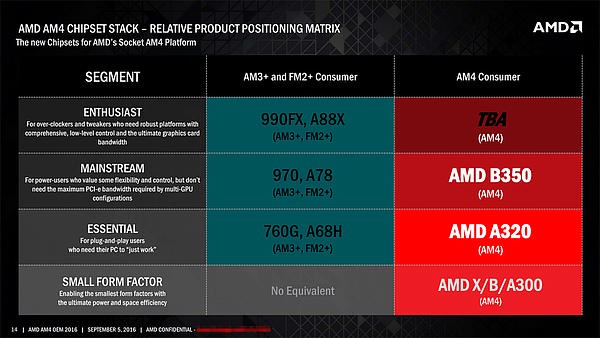 All Zen FX CPUs that are part of the Summit Ridge family will include the company's new platform security processor, PCIe 3.0 support, dual channel DDR4 memory controllers, copious amounts of L3 cache and updated storage features. Including USB3.1 and NVMe. Summit Ridge will include CPUs ranging from 8 cores & 16 threads to 4 cores & 8 threads with 95-65 watts of power.
【所有新的Zen FX CPU都会带来AMD新平台的安全处理器、PCIE3.0支持、双通道DDR4、大容量L3以及更新的存储特性 – USB3.1以及NVMe。Summit Ridge CPU规格会从4核8线程到8核16线程,功耗65-95W。】

AM4's Key Features
【AM4关键特性】

DDR4 Memory
PCIe Gen 3
USB 3.1 Gen2 10Gbps
NVMe
SATA Express

AMD Zen Press Release

From 7th Gen APUs to upcoming Zen-based "Summit Ridge" desktop processors, the future-ready AM4 platform features the newest I/O standards and an AMD commitment to support it into the future.
The initial "Zen" cores for "Summit Ridge"-powered desktops will utilize the AMD AM4 socket, a new unified socket infrastructure that is compatible with 7th Generation AMD A-Series desktop processors. With dedicated PCIe® lanes for cutting-edge USB, graphics, data and other I/O, the AMD AM4 platform will not steal lanes from other devices and components. This allows users to enjoy systems with improved responsiveness and the future looking technologies that the AM4 platform provides, resulting in a powerful, scalable and reliable computing solution for all their needs.
【广告语不翻】

AMD Zen Summit Ridge CPUs & High-End "X370" AM4 Motherboards To Be Available On Shelves By February 2017
According to Benchlife's Chris L, motherboard makers are already building their inventories of all three AM4 chipsets. Rumor has it, as we had reported a couple of weeks back, that motherboard makers are planning to showcase their new AM4 motherboards this upcoming October. This inventory build-up while well underway will reportedly take several months to be market ready due to the large inventories.
【Zen架构的Summit Ridge CPU和高端的X370芯片组主板将会在2017年2月进入市场,主板厂商已经开始准备自己的产品线了,但距离进入市场还需要好几个月。有传闻说主板厂商将会在10月份展示AM4主板。】

One thing that AMD has hinted at during its recent performance demonstration of Zen which wowed the press, is that we'll see Zen on display at CES in January of 2017. That's when Summit Ridge is expected to officially launch. Assuming everything goes according to plan this means that high-end X370 AM4 motherboards and desktop Zen CPUs should be available on-shelves by February of next year.
【AMD还暗示了一点??之前惊艳各大媒体的Zen架构性能演示,将会在明年1月的CES展上提供实机展示。这很可能就是Summit Ridge官方发布的时间,如果一切进展顺利,X370主板和Zen CPU明年2月就会进入市场。】


AMD's Computing Products – CPUs & APUs
【AMD新产品线】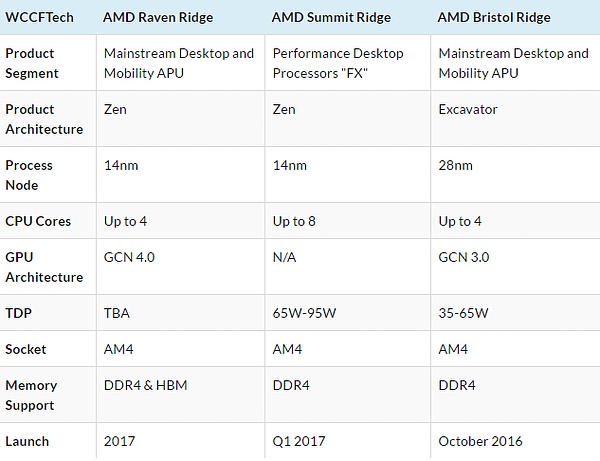 source:http://wccftech.com/amd-zen-intel-kaby-lake-february-2017/
自翻,转载请注明出处,严禁私自篡改标题、内容以及二次投递。