数码科技
【AMD Zen处理器&AM4接口实物曝光:PGA1331】AMD Zen CPU & AM4 Socket Pictured ? PGA Design With 1331 Pins Confirmed
AMD's upcoming Zen processors and brand new unified "AM4" socket have been pictured. Confirming a return to the company's signature Pin Grid Array design with extensively expanded functionality. AM4 will share cross-compatibility with upcoming Bristol Ridge APUs and the Summit Ridge family of high-end Zen CPUs. Making it the first of its kind to offer compatibility with all of AMD's desktop products replacing AM & FM sockets and consolidating them into a single solution.
【AMD已经初步介绍了下一代基于全新Zen架构的处理器Summit Ridge,预计2017年第一季度发布,它也将和刚推出的第七代A系列APU Bristoal Ridge一样改用新的Socket AM4封装接口,彼此可无缝切换,这是AMD桌面产品线首次将AM和FM插槽整合为单一解决方案。】
AMD Zen CPU & AM4 Socket Pictured ? PGA Design With 1331 Pins Confirmed

【AMD Zen处理器&AM4接口实物曝光:PGA设计,1331针】
AM4 is a huge step-up from the aging AM3+ socket. Finally adding native PCIe 3.0 support in addition to native USB3 & 3.1 functionality. The new desktop platform features dual channel DDR4 memory support for a total of four DDR4 memory modules & speeds up to 3200Mhz. The socket can support up to 24 PCIe lanes, depending on the chipset. Which is equivalent to what we find on Intel's mainstream LGA1151 platform.
【AM4接口在AM3+基础上前进了一大步。终于能原生支持PCI-E 3.0、USB 3.0/3.1、NVMe、SATA Express,并支持双通道DDR4内存,最多四条,最高频率3200MHz,同时根据芯片组不同支持最多24条PCI-E,和Intel主流平台LGA1151相同。】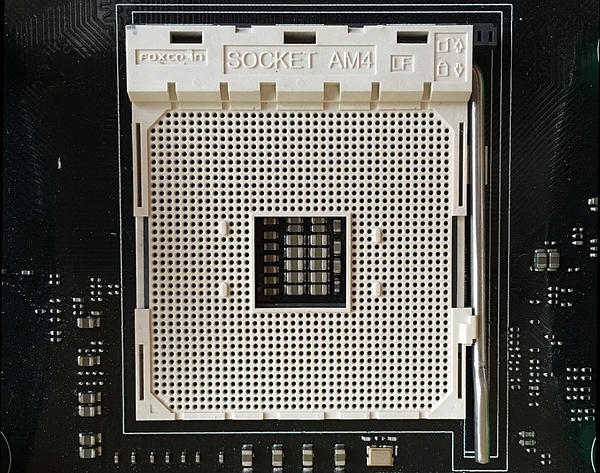 AMD AM4 Socket via hwsw
【AMD AM4插槽】
Moving on to the physical aspect of the AM4 socket itself. Let's briefly discuss the exterior design of the socket first. As is the tradition with AMD the AM4 socket is white. This has been the case for all of the company's previous sockets that represent the first iteration of a given generation including AM2 and AM3. Whilst the second iteration of any given socket generation is black including AM2+, AM3+ and AM4+ if and whenever it comes out.
【按照惯例,AM4是白色插槽 – AMD每次更换全新接口,第一代都是白色的(AM2/AM3),之后的升级版本则是黑色(AM2+/AM3+)。】
AM4's Key Features

【AM4关键特性】
DDR4 Memory【双通道 DDR4 3200】

PCIe Gen 3【PCIE3.0】

USB 3.1 Gen2 10Gbps

NVMe

SATA Express
40%+ More Pins Than AM3+ & New Mounting Hole Spacing

【比AM3+多40%针脚、针脚布局更换】
Just like previous generation AMD sockets AM4 is a Pin Grid Array socket with zero insertion force. It maintains the same locking mechanism as the previous generation and takes up exactly the same area as AM3+, measuring in at 40x40mm. One of the most significant changes however is the number of pins. AM4 supports 1331 pins which is a very significant increase over the 942 of AM3+ and quite a bit more than Intel's LGA1151. In fact this makes it the first PGA socket that we've seen from AMD to accommodate more contact pins than Intel's LGA.
【与前辈们一样,AM4依然是零插拔力的PGA插座,锁止机制也和前代一样。插座大小和AM3+完全一样,为40x40mm。唯一的改变是针脚数,从AM3+的941增加到了1331,比Intel的1151也要多不少。】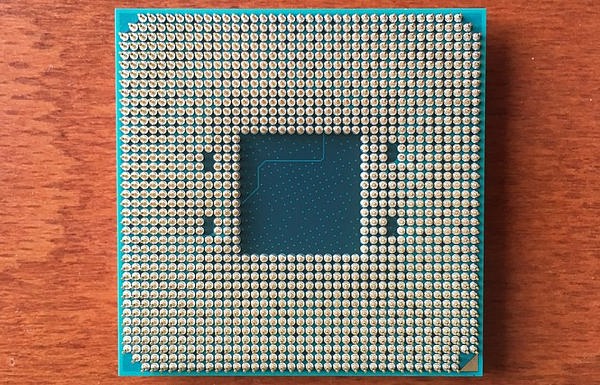 Backside of AMD AM4 Zen Summit Ridge & Bristol Ridge Processors via hwsw
【AM4 Summit Ridge & Bristol Ridge处理器背面】
All AM4 APUs & CPUs featured integrated southbridges and natively support significantly more PCIe lanes & USB devices than before.That in addition to AM4's cross-compatibility feature have been the primary drivers of the hefty 40%+ growth in pin contacts from AM3+ to AM4. To accommodate this the number of traces going in and out of the socket has also increased dramatically. This has unfortunately necessitated and adjustment of the socket's cooler/heatsink mounting holes. Effectively breaking compatibility with all previous generation coolers for AM2, AM2+, AM3 & AM3+.
【所有AM4 CPU&APU都集成了南桥,原生支持的PCIE通道和USB设备也比AM3+多得多。另外,APU和CPU共用平台也是针脚增多的主要原因。这同时导致插座的散热器安装孔位变化,不再像以前一样一个散热器从AM2一直用到AM3+了。】
Thankfully however, some heatsink makers like Noctua have already announced that they will be offering free upgrade kits to their customers. Allowing them to use their existing Noctua coolers on upcoming AM4 motherboards.
【万幸的是,一些良心散热厂商比如猫头鹰已经宣布提供免费的升级套件,可以将现有的散热器继续用在AM4平台。】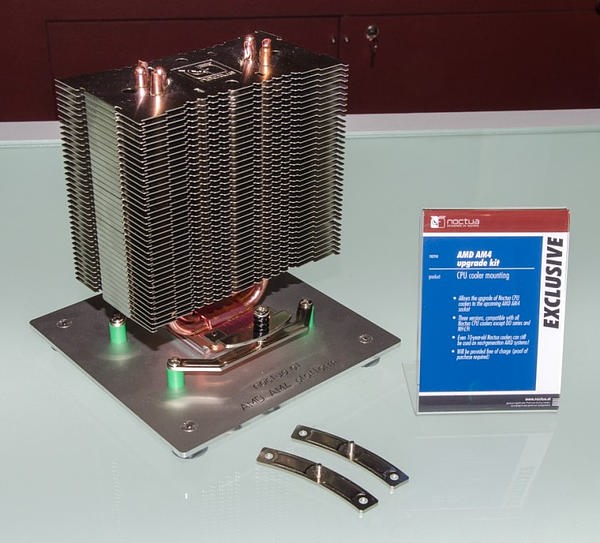 AM4 motherboards are already shipping to OEMs and they're expected to start showing up in retail around October. The new motherboards will also be compatible with AMD's upcoming Raven Ridge APUs. Which feature up to four Zen cores, an integrated GCN GPU and High Bandwidth Memory.
【AM4主板已经向OEM出货,预计将在10月前后进入零售市场,首先用于Bristol Ridge APU,还兼容后面Zen架构+HBM内存的Raven Ridge APU,】
Zen Summit Ridge CPUs with up to 8 cores and 16 threads are expected to be available on shelves by February of next year. With Raven Ridge APUs launching sometime in the middle of 2017.
【Zen架构Summit Ridge CPU 可能在明年1月进入市场,Raven Ridge APU则可能在2017年中发布。】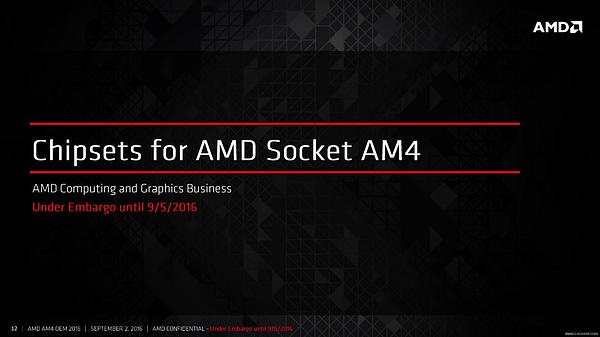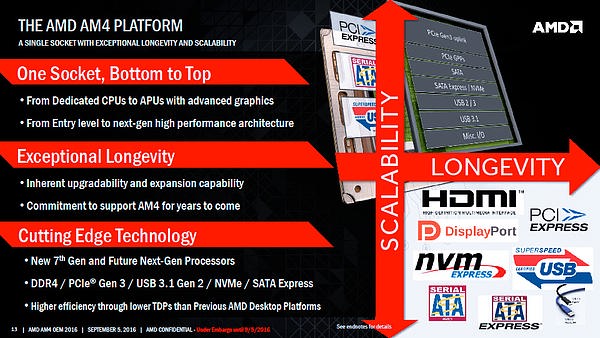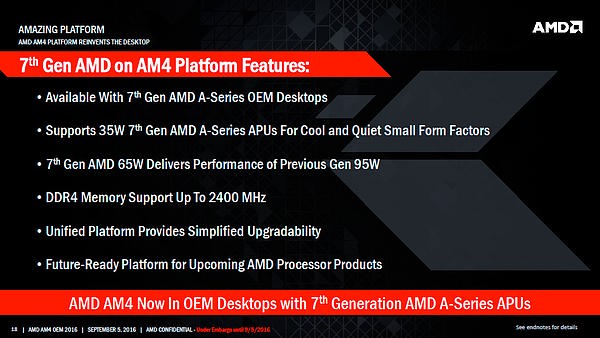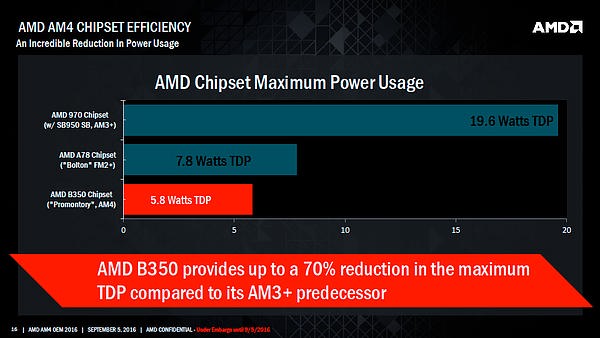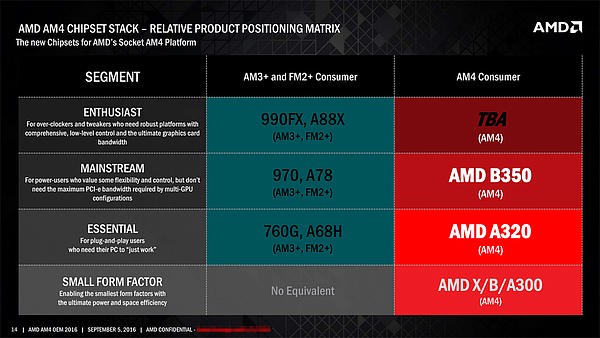 source:http://wccftech.com/amd-am4-socket-zen-bristol-bridge-soc-package-pictured/
自翻,转载请注明出处,严禁私自篡改标题、内容以及二次投递。