数码科技
【AMD RX 480确认为 Polaris 67DF:C7,频率1266 MHz】AMD Radeon RX 480 confirmed as Polaris 67DF:C7
source:http://videocardz.com/60819/amd-radeon-rx-480-confirmed-as-polaris-67dfc7
自主翻译,转载请注明出处。
Guys over at TechPowerUP took a picture of AMD Radeon Settings software running on just announced Radeon RX 480.
【TechPowerUP的家伙们拍了张刚发布的RX 480的驱动设置图】

AMD Radeon RX 480 clocked at 1266 MHz【RX 480频率1266Mhz】

Their photograph confirms two things, the core clock of 1266 MHz and Device ID of 67DF:C7, which we have been seeing in numerous leaks for the past few weeks. The clock speed is not surprising too, since we have seen this clock in Sisoft Sandra leak and in 3DMark benchmarks.
【他们的照片确认了两件事,1266Mhz的频率和67DF:C7的设备ID,这个ID在之前几周的曝光中我们就已经见过。这个频率也不是新鲜事,自从Sisoft Sandra和 3DMark测试曝光后就看过这个频率。】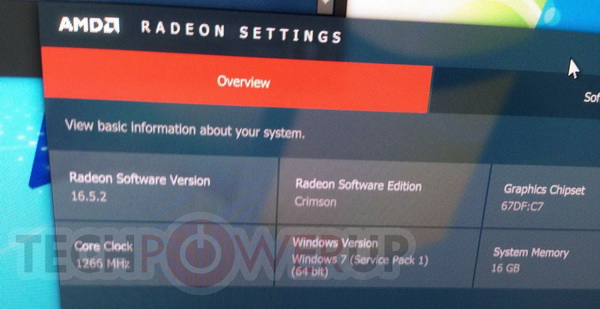 This basically confirms that Radeon RX 480 is based on Polaris 10 (Ellesmere XT) with 2304 Stream Processors. Of course this still raises a question, is there a 2560 SP part coming in the future, or is RX 480 using the full silicon?
【这已经基本确认RX 480基于Polaris 10 (Ellesmere XT) ,拥有2304个流处理器【36CU】。当然这激起了一个疑问,未来是否还有2560SP【40CU】的完整核心,或者说RX 480就已经用了完整核心?】

AMD Radeon RX 480 is equipped with 8GB GDDR5 memory clocked at 2000 MHz (8 GHz effective). This puts RX 480 on pair with GTX 1070, which has the same memory bandwidth of 256 GB/s.
【RX 480配有8GB GDDR5显存,频率2Ghz(8Ghz等效)。这使得RX480与有着256GB/s内存带宽的GTX1070不分上下 性能既然已经出来了那就不多说了…单卡差一截 当然价格差的更多】