数码科技
【AMD OPCL驱动证实:存在VEGA10、11两个GPU】AMD VEGA10 and VEGA11 GPUs spotted in OpenCL driver
source:http://www.forum-3dcenter.org/vbulletin/showpost.php?p=11101439&postcount=9606
自翻,转载请注明出处。
AMD has inadvertently confirmed two VEGA GPUs in the making.
【AMD无意中证实了正在打造的两颗VEGA GPU】

AMD drivers already mention VEGA 10 and VEGA 11
【AMD驱动中已经提到VEGA 10和VEGA 11】

The following list can be found in OpenCL driver, that is present in the latest Crimson software.
【在最新的Crimson software中附带的OpenCL驱动中可以找到下面的列表】

SI: TAHITI【GCN1.0】
CI / GFX7: MILOS, KRYPTOS, HAWAII, NEVIS, PENNAR, BONAIRE, Kabini【GCN1.1】
VI / GFX8: ICELAND, TONGA, CARRIZO, BERMUDA, racerx, FIJI【GCN1.2】
GFX81: AMUR, STONEY, ELLESMERE, DERECHO【GCN4,GFX81可以看出更改不大,具体改进解析戳此】
GFX9: GREENLAND, RAVEN1X, VEGA10, VEGA11【新架构】
The SI, CI, VI and GFX stand for GPU generations. The latest, yet unreleased architecture is GFX9, which includes Greenland, Raven1X, Vega10 and Vega 11. For quite some time Greenland was rumored to be just another codename for Vega10, but since it's listed separately, we should assume that Greenland is something else, probably an integrated graphics chip.
【SI/CI/VI和GFX代表每代GPU。目前尚未发布的最新架构为GFX9,包括Greenland,Raven1X,Vega10和Vega11。曾经很长一段时间Greenland都被认为是Vega10的另一个代号,但既然已经被单独列出来了,就说明Greenland可能是别的东西,可能是集显】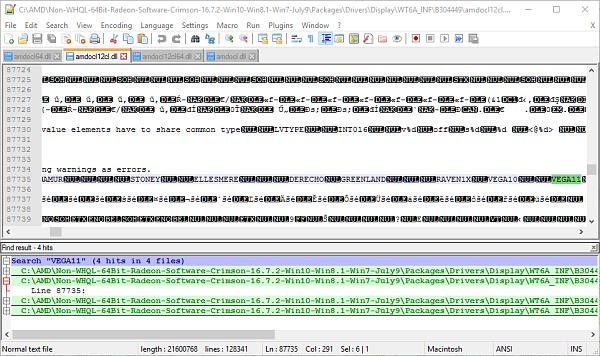 Greenland first appeared in Linkedin profile of AMD employee. It revealed that new chip would sport 4096 shader processors. It's unlikely that integrated chip would feature so many cores, so this number is likely referring to Vega 10.
【Greenland首次出现于AMD职员的领英档案里。Greenland拥有4096个SP。但一个集显不可能有这么多SP,所以这个数字可能是Vega10的SP数。】

Vega is still planned for next year. AMD recently updated its roadmap to reflect the high-end nature of this architecture.
【Vega的计划依然排在明年。AMD最近更新了与之对应的高端GPU路线图。】
More importantly, Vega will be the first AMD architecture to feature High-Bandwidth-Memory 2 (HBM2). The reason why this is important is because NVIDIA's Pascal GP100 already has HBM2 memory on board (well at least in prototypes), but NVIDIA is also developing GP102 chip, which is rumored to stick to GDDR5X standard and be more gaming oriented.
【更重要的是,Vega将会是AMD首个支持HBM2的架构。因为NV的Pascal GP100已经板载了HBM2(至少原型是这样),但NV也在研发可能继续使用GDDR5X的GP102,更符合游戏应用。】

The good news is that Hynix already confirmed availability of HBM2 chips in third quarter, so just in time for Vega architecture, which is arriving early next year. The question is, are both Vega 10 and Vega 11 using HBM2 technology? Maybe Vega 11 will use GDDR5X instead?
【好消息是海力士已经确认今年第三季度HBM2就可以出货了,刚好赶上明年发布的Vega。问题是,Vega10和Vega11都会用HBM2吗?可能Vega11也会用GDDR5X?】