数码科技
【?屎吧intel】i7 7700K Kaby Lake测试泄露
原帖地址:http://www.fudzilla.com/news/40596-intel-core-i7-7700k-kaby-lake-cpu-benchmarks-leaked
自主翻译,转载请注明出处。
【这么多年的TICK-TOCK战略终于变成了三段式挤牙膏】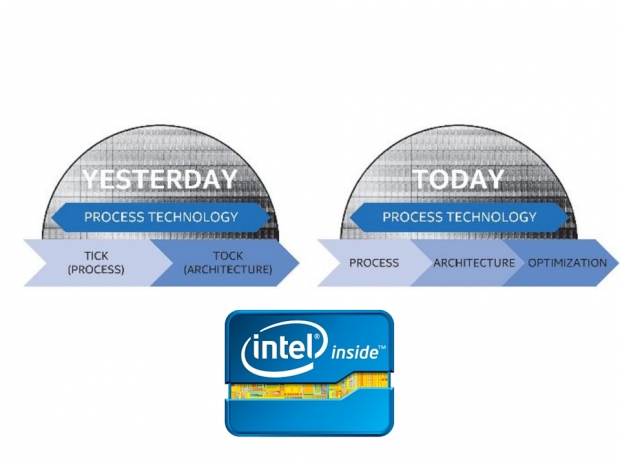 3.60GHz chip (4.2GHz Turbo) with 24 graphics units, same as Core i7 6700K
【默频3.6G(4.2G睿频),附带24EU的GT2核显,和6700K一样】
On Monday, a SiSoft benchmarking software leak revealed some performance numbers for Intel's upcoming Core i7 7700K CPU, based on third-generation 14nm Kaby Lake architecture.
【周一,SiSoft测试软件泄露出了即将到来 i7 7700K的部分参数,它是基于14nm Kaby(Sky) Lake微架构的(牙膏)。】
Intel Core i7 7700K benchmark using SiSoft Sandra Bechmark (March 29, 2016)
【i7 7700K的 SiSoft Sandra测试(2016.3.29),点开看大图】
According to the results, the Core i7 7700K is a quad-core chip running at 3.60GHz (up to 4.2GHz Turbo) and features eight threads, 8MB of L3 cache, and includes integrated graphics with 24 execution units and the same 1,150MHz clockspeed as the Core i7 6700K (Intel HD Graphics 530, GT2, 24 units).
【根据测试结果,7700K依然是4C/8T,3.6G(4.2G睿频),8ML3,附赠24EU的GT2核显的规格,并且核显和6700K的HD Graphics 530,频率一致。】
Running at the 4.20GHz Turbo clock frequency in Windows 10 x64 (and perhaps using an engineering sample), the benchmarks show 118.71 GOPS (giga-operations per second) across eight threads, 313.84 megapixels per-second in the multimedia test, 35.30 GOPS in the Microsoft .NET arithmetic benchmark, 5.59GB/s cryptographic performance, 23.2 nanoseconds DDR4 latency, and 37.41 megapixels per-second GPU performance.
【测试在WIN10 X64环境下,跑在4.2G的睿频上(而且可能使用的是ES),测试显示八线程的计算能力为118.71 GOPS,多媒体测试为313.8MP/s,微软.NET计算测试为35.30 GOPS,加密性能为5.59GB/s,DDR4延迟23.4ns,GPU性能为37.41MP/s】
This particular chip is the successor to Intel's Skylake-based Core i7 6700K, the company's top quad-core option for Socket LGA 1151, which launched in Q3 2015 at a 4.0GHz base frequency (4.2GHz Turbo), eight threads, 8MB L3 cache and a 91W TDP at $349 MSRP.
【这个芯片是目前LGA1151旗舰,Skylake架构的6700K的继任者,6700K发布于2015Q3,默频4.0G(睿频4.2G),八线程,8ML3,91W TDP,建议零售价格349刀】
Intel's Core i7 7700K is likely to become the company's new LGA 1151 unlocked flagship between now and Q3 of next year when it unveils its 10-nanometer Cannonlake lineup (see: Intel's updated Moore's Law development model). Meanwhile, most brand vendors will likely start shipping Kaby Lake CPUs between July and October 2016.
【在今年Q3到来年揭晓10nm Cannonlake产品线的这段时间中,7700K可能会成为LGA1151的新无锁旗舰。同时,大部分代理商会在16年7、8月之间开始出货】
Kaby Lake desktop CPUs like the Core i7 7700K will retain full compatibility with existing Intel Z170 motherboards, but the company will also offer a newer 200-series chipset built on LGA 1151 with a few more I/O-side improvements. The chipset is said to include up to 24 PCI-Express 3.0 lanes (up from 20), six native SATA III 6Gbps ports and ten USB 3.0 ports.
【Kabylake系列CPU与现有的Z170主板完全兼容,但intel也会挤出新的牙膏,提供新的Z200系列芯片组,同时带来一些I/O接口上的提升。Z200接口将会有最多24条PCI-E 3.0(上代是20条),6个原生SATA3 6Gbps接口以及10个USB3.0接口。】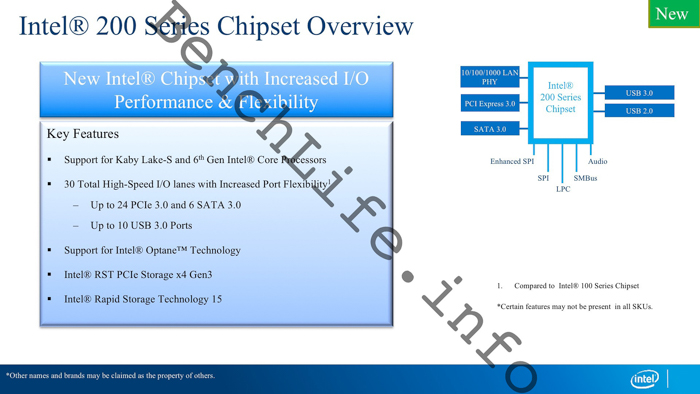 挤牙膏挤得丧心病狂。。。真期待AMD的Zen啊….再不来就会像评论所写的一样,又被intel带节奏带上好多年。。。
?屎吧Intel…"Zen better shake the market up or we'll be stuck with quads for the next decade."
【"Zen最好能带动整个市场,否则我们会继续用上十年的四核"】